Lexar Thor DDR5 6000Mhz Memory Review
Author:

Dennis Garcia
Published:
Wednesday, October 25, 2023

Introduction
As many of us know, when Alder Lake launched in 2021 it brought with it a variety of new technologies and concepts. Since then, a mad scramble has ensued to provide components that work well and give users options for their system builds. Early memory options were very polarized with some companies focused on getting something out there while others catered to the high-end with expensive memory kits and questionable performance benefits.
In this review we will be looking at the THOR DDR5 memory kit from Lexar. This is a 32GB dual channel kit featuring a 6000Mhz speed grade and CAS Latency between 32 and 36 depending on the kit you pick up. If you happen to be part of the growing movement against RGB lighting you will be humbled to know that the THOR DDR5 modules are currently RGB adverse and feature a very stylish heatspreader design.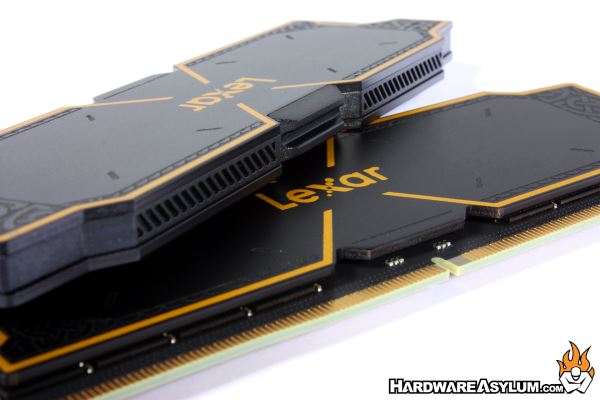 THOR DDR5 memory modules are designed as a solid mainstream product offering with speeds that will cater to power users while not having the flash that Gamers and Performance Users love so much.
The heatspreader design is rather unique and low profile at only 40mm in height. This is only slightly taller than a standard memory DIMM and should have no problems clearning any heatsink you plan to install.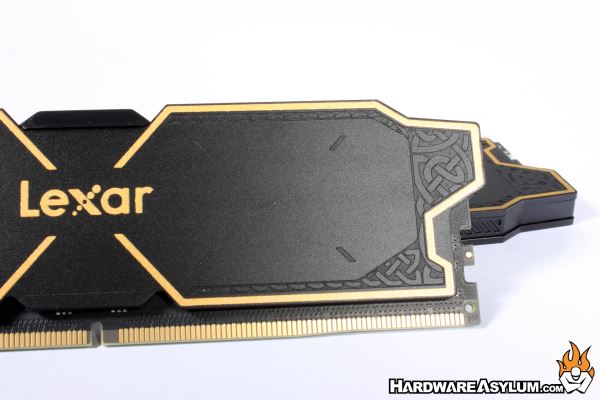 When it comes to graphics you will find copper/orange stripes outlining the edge of the module and forming a stylized "X" centered on the Lexar logo. Embossed in the heatspreader are graphics that we might associate with Norse symbols to further reaffirm the THOR product name.
I am rather impressed at how subtitle the graphics are as they only show up under certain lighting conditions.
Across the top of the module, you will find an embossed pattern while giving the overall heatspreader design a square finished appearance. As mentioned, the THOR DDR5 modules are RGB free and a great match for those who are into that sort of thing.