Patriot Viper Gaming 3600Mhz 64GB Blackout Edition Memory Review
Author:

Dennis Garcia
Published:
Sunday, July 5, 2020

Introduction
Most hardware enthusiasts would agree, "More Memory is Better". Of course there is a bit of a diminishing return depending on how you use your computer (or if you download more RAM from the Internet) but, generally speaking, when you properly match memory modules with your system and install them in the correct configuration you will get the best performance. By adding more physical memory you allow the operating system and hardware to operate more efficiently.
In this review we will be looking at one of the latest memory kits from Viper Gaming the Viper 4 Blackout. This is a special 64GB performance dual channel memory kit using two PC4-28800 3600Mhz modules with densities of 32GB per module. Most gaming kits on the market take an economical approach by featuring lower densities to increase performance with the intent that you'll add more modules to increase memory capacity.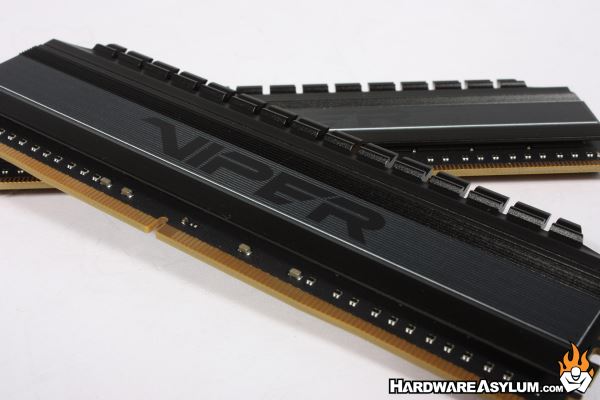 Blackout Edition isn't just a cool name but indicates that these modules are not RGB enabled and feature a totally black set of heat spreaders. The heat spreader design is pretty unique featuring a dual row of cooling fins across the top and two aluminum plates on each side of the module.
The base of the heatspreader is flared slightly giving the module a triangle profile but, it otherwise intended to be vertical.
Viper 4 Blackout Performance Memory modules are currently available in a variety of different configurations. The 3600Mhz 64GB kit featured in this review is the fastest and highest capacity kit available with many other great options to choose from.
Available Configurations
64GB Kits
32GB Kits
16GB Kits
4000MHz
3600MHz
3200MHz
3000MHz
8GB Kits
The 16GB option is by far the most popular with enthusiasts and offers the best out of box performance with 4000Mhz modules being available. For AMD Ryzen performance the 3600Mhz kits will be the default go-to and gives you the most options when it comes to total capacity. I'm not sure why there are still 8GB kits being solid but I suspect these might be left over chips that didn't pass the binning process and there is something to be said for offering a complete product line over what is popular.