Patriot Viper Elite 5 48GB 6000Mhz DDR5 Memory Review
Author:

Dennis Garcia
Published:
Monday, October 16, 2023

Introduction
When memory modules are built the overall density, or size of the module is determined by the chips used and how many of them are present. For instance, on single sided modules with a density of 8GB there will likely be eight 1GB chips soldered to the PCB. For more expensive modules they may use higher density chips or double the amount. One of the common themes is that desktop memory modules are built in multiples of 8x. 2GB, 4GB, 8GB, 16GB, 32GB, 64GB etc.. So you can imagine my surprise when finding the 48GB modules featured in this review.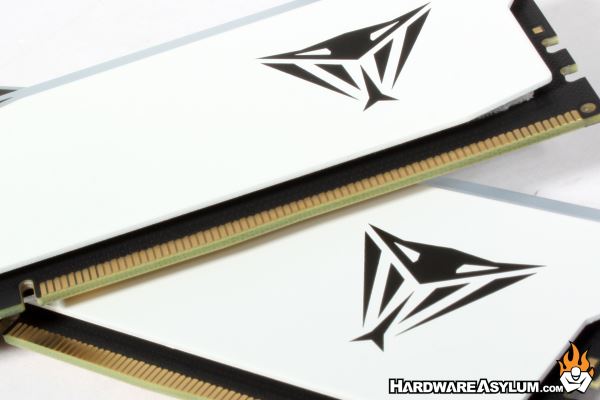 In this review we will be looking at the Viper Gaming Elite 5 from Patriot. These are 6000Mhz DDR5 modules featuring an RGB light strip across the top and dressed up in white heatspreaders. The Elite series is a performance memory module that is designed for use in mainstream and custom system builds. The one-of-a-kind while aluminum heatspreader would be a nice addition to the "white out" system builds that have been gaining in popularity.
The Viper Elite series is available in a range of speeds from the JEDEC 4800Mhz up to 7000Mhz in sizes ranging from single 16GB modules up to 96GB dual channel kits.
Across the top of each module, you'll find a rather elegant RGB light bar that extends the entire length of the memory module and includes a notched area near one end to illuminate the Viper logo. The heatspreader is completely flat with a smooth painted surface. This does allow the heatspreader to flex when pressed but is otherwise quite sturdy.
When it comes to DDR5 I have noticed a that anything around 6000Mhz is a perfect choice for everyone. At those speeds you generally get respectable timings along with a lower voltage requirement and plenty of speed for any task. While faster memory will give you better performance there is a significant diminishing return once you move beyond 6000Mhz where performance gains are smaller, and module construction becomes more expensive.