Patriot Viper Xtreme 5 8000Mhz DDR5 Memory Review
Author:

Dennis Garcia
Published:
Monday, July 24, 2023

Introduction
During CES 2023 I was introduced to a new memory line from Patriot called the Xtreme 5 and as the name would suggest these modules are designed to deliver Xtreme performance while the five would indicate DDR5.
Or, if not, too bad as that is what I am going with.

In this review we will be looking at the Xtreme 5 memory kit from Patriot. These modules are some of the fastest you can currently buy at 8000Mhz with timings of 38-48-48-84 @ 1.45v. The module density is 16GB per module and are currently available in dual channel module kits of 32GB.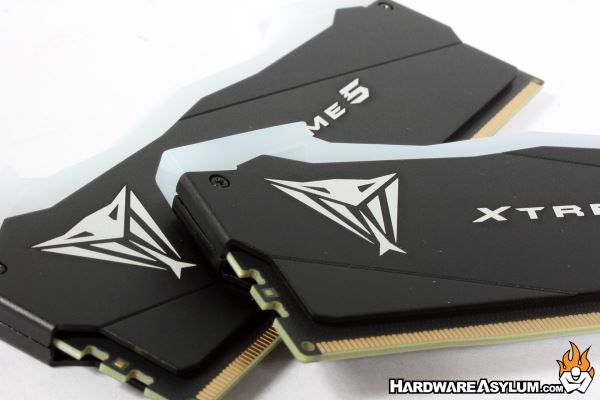 The Xtreme 5 series features three memory speeds starting at 7600Mhz, 7800Mhz and 8000Mhz. ARGB lighting is present on every module in the lineup and compatible with all of the major RGB lighting systems.
You may notice that the heatspreader design is quite different and appears to be inspired by the Viper logo. Points at the left and right correspond with the viper head and the "horns" in the light bar are a nice decoration that we don't normally see.
What I have noticed is that Viper Gaming enjoys experimenting with heatspreader designs and this latest iteration is interesting. The heatspreader itself is designed a little different from previous products and features much thicker aluminum panels with few machined details and very bold silkscreened graphics.
The light bar is secured to the module using two micro screws, found in the upper corners. Unlike some of the past heatspreader designs, the Xtreme 5 is quite nice to handle and feels like a quality part.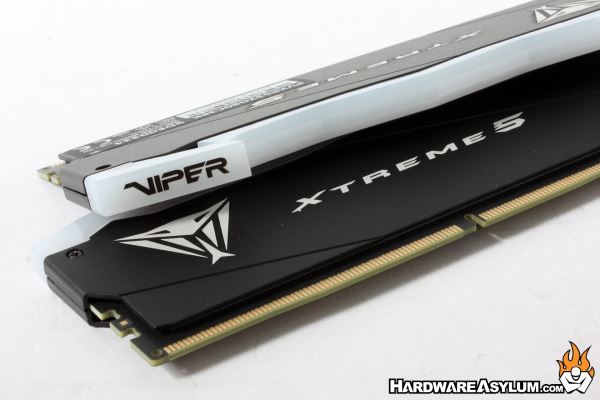 On RGB enabled modules you will find a nice light bar across the top of the module that forms a single line when viewed directly down. With the light bar sitting higher on the Xtreme 5 module the lighting effects are also viewable from almost any angle.
Lighting is nicely diffused with the default lighting patten appearing to start in the center and move outwards. These modules support all of the major motherboard lighting systems allowing you to sync the lighting effects or, you can create custom patterns using the Viper Venom RGB App.