Cooler Master Wave Stand Review
Author:

Dennis Garcia
Published:
Thursday, September 06, 2012

Introduction
Tablets are quickly becoming one of the defacto standard for entertainment and personal computing but are plagued by a simple problem. They won't stand up on their own. Yes you can get cases and covers that will prop up your tablet but even the slightest breeze or careless cat is enough to knock them over. What you really need is a purpose built stand that is compact, light and adjustable. Lucky for us Cooler Master has the solution, the Wave Stand.

The Cooler Master Wave Stand is a foldable aluminum tablet stand designed to give the user the ability to position their tablet at any angle and still provide strength and stability to use the tablet without fear of it falling over.
Each arm is capped with a textured rubber Grip-Pad that is designed to cradle your tablet and still allow you to quickly reposition the device as needed. The center arm adjusts to change the viewing angle much like a stand on the back of a picture frame. The base of the stand is split to allow charging cable access and also elevated so that only the four rubber feet make contact with the surface below.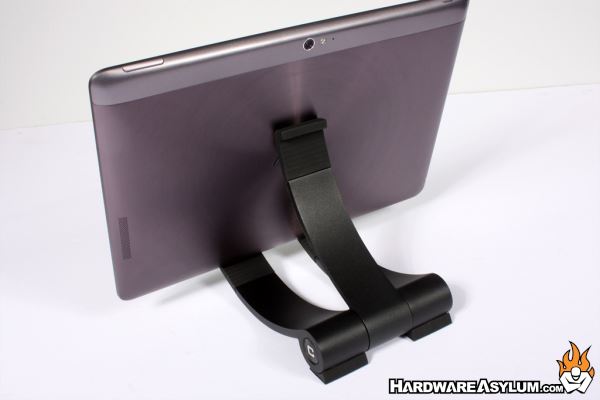 The Wave Stand is also portable by simply folding the center arm down and placing it in your travel case. Once you have reached your destination setup the stand and you are ready to go. The center arm operates on friction and will stop at approximately 135 degrees past the closed position.

We did get a change to use the Cooler Master Wave Stand with two different tablets, the Asus Transformer Infinity Pad and the Asus EeePC Slate. While these devices share a similar name they are considerably different in weight and intended usage. The Infinity Pad is your standard Android device which is lightweight and often used for entertainment purposes such as to play games or watch movies.
The Asus Slate is your standard "Ultra Tablet" device as it features an Intel Core i5 processor and runs Windows 7. As you can imagine the Asus Slate, being a laptop replacement, is considerably larger and still operates quite well in the Wave Stand.

You will touch the screen less when using an "Ultra Tablet" but when you do making sure the tablet doesn't move is important when activating a right-click and moving windows around. If the tablet moves during these operations there is no telling what can happen..
Conclusion
The Cooler Master Wave Stand is a perfect device for the avid tablet user as it is one of the few devices that can cradle your tablet and still allow you to use it without fear of falling over. Most tablet covers come with this feature but require Velcro straps and complex folds to be stable under normal use. The Wave Stand is easy, simply raise the center arm to the desired height and you are ready to go.

Wave Stand is constructed from aluminum with a total weight of 11.6 ounces and features high quality rubber Grip-Pads on each of the arms. The stand is available in stylish black or natural silver and features an anodized finish for durability.

Overall we really enjoyed using the Wave Stand and have added it to the standard travel kit. This won't replace the protective portfolio cover that came with the Asus Slate, or any cover for that matter, but will replace the shoddy stand option the portfolio provides due to the stability and infinite viewing angle adjustments