NZXT Premium Cables Starter Kit
Author:

Darren McCain
Published:
Friday, March 30, 2012
Premium Cables
NZXT is a name that many of us associate with unique quality cases like the Tempest Series, one of my personal favorites. More recently the folks over at NZXT have branched out into case accessories and even gaming mice. Today we will be looking at their Premium Cables Starter Kit. The Premium Cables line provides DIY builders with an attractive alternative to customizing your cables manually all in a single package.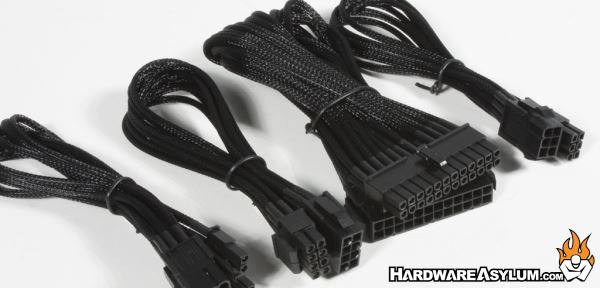 In the Starter Kit you get the following
- CB 6V - 6Pin VGA Extension
- CB 24P - 24Pin Motherboard Extension
- CB 8P - 8Pin Motherboard Extension
- CB 8V - 6Pin to 6+2Pin VGA Extension

Each of these cables along with 15 other cable types can be purchased individually as well. By offering all of the common core cables together NZXT has created a sort of PC dress up kit for the majority of system configurations. The kit is offered in both black and white and if you need additional colors you can purchase the red cables individually.

I used the Starter Kit in my latest build featuring the Cooler Master Silent Pro Hybrid, the Gigabyte G1 Sniper 2 and the Thermaltake Overseer RX-1 case. The Thermaltake case is larger than many mid tower designs making the added length a bonus as I route things neatly out of sight.

The all black interior looks much cleaner with the standard 24 pin leads replaced by the individually sleeved cables of the CB 24P. I can also see the value in using the kit to pre-wire your entire system and then route the wires back to the power supply individually.

Premium Cables are definitely a luxury item but the practical applications are there as well. I will be considering a set of NZXT Premium Cables for every windowed build I tackle going forward. Not only do they provide a clean an attractive look but are easy to install and feature high quality construction.

Available Images