SilverStone PP07E Braided Extension Cables Review
Author:

Dennis Garcia
Published:
Wednesday, May 6, 2020

Introduction
Dressing up your PC can be a difficult task and while the process has gotten easier over the years you can often spend months looking for just the right memory module or that custom screw package for just the right color accent you need. Details like this are often overlooked when your PC works for a living and is why cable management has become such a debated topic in online communities. Cables are the one thing in your PC that is rarely modified and when the routing is off it tends to stand out.
As we know the majority of PSUs you can buy come with either pure black cables or a nice rainbow of individual colors. These are often bundled into large plastic braids or come as flat ribbons giving you different options for how to route them in a modern PC. The one universal thing about PSU cables is that no matter how hard you try, no matter how many zip ties you use there is always room for improvement that typically is only achieved with a modification.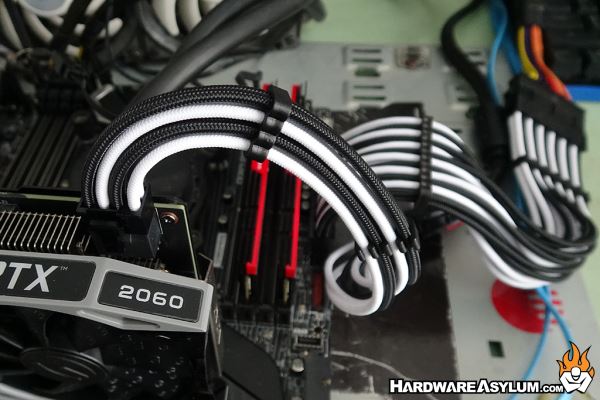 In this review we will be looking at a new product from SilverStone that lives under the product number PP07E and are Power Supply Extension Cables. These are an upgraded part to the existing PP07 and are designed to enhance the presentation of any PC by converting your PSU cables into individually braided wires.
The new PP07E features a new super flexible cable design and come individually sleeved with new color combinations.
Features
08mm ultra-fine copper wire
High-density nylon braid with great durability and excellent flexibility
Oxygen-free copper wire, film coated to prevent oxidation
Each wire individually sleeved in black or black & white
Compatible with all PSUs
Each extension cable includes 4 cable combs
Cable Options
1 x 24 pin ATX connector
PP07E-MBB - Black
PP07E-MBBW - Black/White
1 x 8 pin (4+4) EPS connector
PP07E-EPS8B - Black
PP07E-EPS8BW - Black/White
1 x 8 pin (6+2) PCIe connector
PP07E-PCIB - Black
PP07E-PCIBW - Black/White