SilverStone PP07E Braided Extension Cables Review
Author:

Dennis Garcia
Published:
Wednesday, May 6, 2020

An Up Close Look
Cable extensions are not a new invention. SilverStone has had them for quite some time and I remember seeing sets like this at Frys and several online shops. There are also modding supply companies that make their own versions. For the most part there are two things to pay attention to when picking cables, the wire gauge (AWG) and type of sleeving. These things will impact the look and how the cables are routed.
The SilverStone PP07E wire extensions are made from 18 Gauge (AWG) wire and feature 0.8mm oxygen free superfine copper strands. This combined with the lighter gauge enables them to be super flexible making routing much easier than before.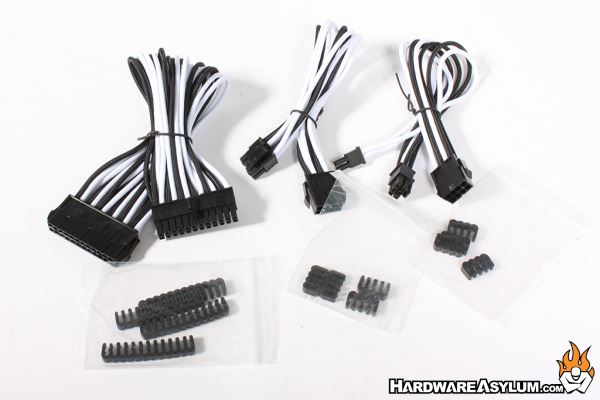 Previous versions and, many you can find online, are made from 16 Gauge (AWG) wire and while the larger size looks pretty tough they aren't as flexible and sometimes leave kinks in the wire when you route them.
The SilverStone PP07E extension cables are currently available in either Black or as an alternating Black and White pattern. Each cable extension is 300mm long and you can get extensions for the main 24-Pin power, 8-pin CPU power and 6+2 PCI Express power.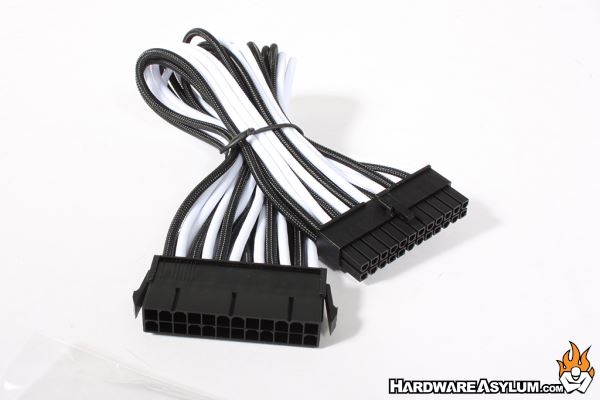 As these are extension cables they are intended to sit between your components and an existing power supply cable. The cable side plug appears to be the same one used on modular PSUs with two tabs for holding the plug into the PSU case and gives you the option to mod this end directly into your case and thus bypassing any existing routing holes for a much cleaner look.