AMD Ryzen 1700 and X370 Review
AMD Ryzen 1700 and X370 Review
Author:

Dennis Garcia
Published:
Friday, April 21, 2017

Introduction
By the time this review is published the new AMD Ryzen CPU will have already been launched along with a plethora of performance reviews and opinions of the new processor and supporting chipsets. Before the AMD Ryzen launch on March 2nd the rumor mill was on fire with speculation about how well it would perform. At the time it was said to have 8-cores and many enthusiasts were speculating that it would take on the Intel LGA 2011 platform and some sites had leaked benchmarks to back it up.
When the CPU launched many hopes and dreams were crushed when review sites started reporting weaker than expected performance along with other sites fudging the numbers to give an unfair advantage. Either way the numbers are in and as I had speculated after seeing an AM4 motherboard at CES, Ryzen wasn't going to be a LGA 2011 killer but could stir up some trouble for the mainstream LGA 115x.
So the question, why bother reviewing a Ryzen 1700 since we all know what will happen?
Well, because AMD asked me and I accepted! Truth be told I have not been one to review processors despite my motherboard reviews weighing heavily on CPU performance it was something I never got the opportunity to do so, it never happened. On top of that I had received my Ryzen media package late so, in some ways this review will be a recap on what you already know with a reaffirmation on where the low'er-end Ryzen 1700 sits in the CPU lineup.
Let's start with the AMD Ryzen Media Package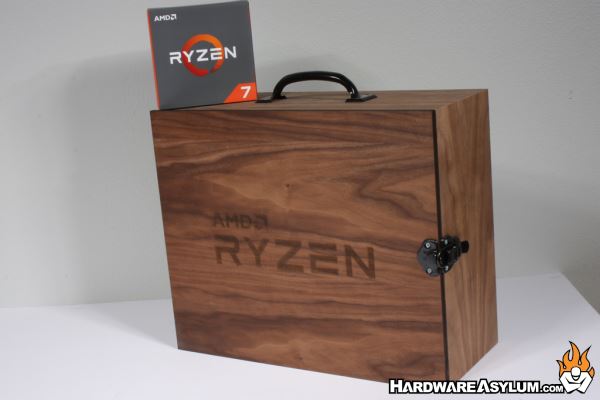 As many YouTube tech channels exploited and over exposited during the Ryzen launch AMD send out their media samples in a large wooden box. Inside was both a CPU and motherboard from one of the top teir manufactures. While some sites got multiple CPUs I was given a Ryzen 1700 (the 300 dollar chip) along with an Aorus (Gigabyte) AX370 Gaming 5 motherboard.
I recently reviewed the Intel version for the Kaby Lake launch and while the CPU and Chipset are different the overall feature package is virtually identical even down to the location of the onboard RGB LEDs. Be sure to check out the Aorus Z270X Gaming 5 review for more information on the Aorus Gaming 5
The box is pretty unassuming but was provided by Woodchuck, an online supplier of custom wooden containers, with a marketing message saying "Buy one Plant one" meaning they will plant a tree for every product you buy.
That is pretty cool if you ask me and goes along with the nature of the Ryzen architecture. Maybe not so much that it will plant trees but rather speaks to the power efficiency of the CPU which helps save the planet and money on your power bill. #somethinglikethat