AMD Ryzen 1700 and X370 Review
AMD Ryzen 1700 and X370 Review
Author:

Dennis Garcia
Published:
Friday, April 21, 2017

Processor Package and Motherboard Details
All Ryzen CPUs are built on the AM4 socket which features 1331 pins and follows a layout similar to the FM2+ where the pins are arranged in a ring around the core. This is a slight departure from the AM3 socket where the entire base was covered in pins allowing for stronger pins to be use that can carry more current.
The AM4 socket is a ZIF (Zero Insertion Force) meaning that to install the CPU you need to flip the retention handle to the open position, install the CPU and move the handle back to the locked position. This will slide part of the socket to security hold the CPU in place using a bit of friction. Intel moved away from ZIF sockets when they adopted the LGA packaging and while both sockets work the same it just changes how the CPU is installed and what kind of electrical connection is made.
According to AMD the new Zen Architecture is a new ground up design that is faster and smarter than anything they have made before with the high-end retail version featuring eight cores and a total of 16 threads on a single chip. The CPU also includes a USB 3.1 Gen1 controller, 24 lanes of PCI Express 3.0 and supports dual channel DDR4.
Aside from the built in USB controller the CPU is very similar to Skylake and Kaby Lake.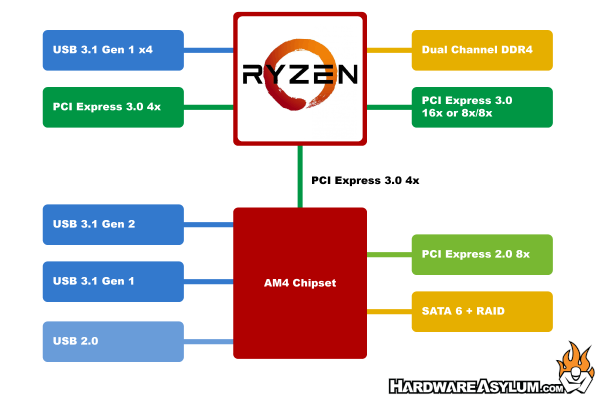 Of the 24 PCI Express lanes 16x of them are dedicated to video cards and how those are distributed depends on what chipset you are using. X370 and X300 allow for 1x16 and 2x8 layouts while A and B series chipsets are limited to a single 16x slot.
Four PCI Express lanes are dedicated to storage and expansion which ideally would be M.2 and NVMe. This allows a fast connection back to the CPU and allows you to bypass the other four lanes dedicated to connecting the CPU to the AM4 chipset.
As with any motherboard the South Bridge/MCP/Chipset handles all of the I/O and expansion for the motherboard. On most AM4 chipsets you will get eight lanes of PCI Express 2.0, a variety of USB connections from 3.1 Gen 2, 3.1 Gen 1, USB 2.0 and SATA connections with software RAID support. Of course it is up to the motherboard maker to decide what to implement and they may add additional chips as needed.
The best part of the Zen architecture is that every AM4 processor will work in every AM4 Chipset. For instance the Ryzen 1700 featured in this review is an example of a high end eight core CPU designed for high-end systems. It has no onboard graphics core and yet our Aorus AX370 Gaming 5 motherboard comes with a video connection. This is to accommodate some lower end Althon CPUs with four cores and onboard graphics.
Gigabyte has always been good about supporting as many features as they can even if the market segment isn't likely to ever use them. For instance the Aorus AX370 Gaming 5 is a rather high-end gaming motherboard using the X370 chipset and even supports 2-way SLI and Crossfire. It comes with an onboard HDMI connection even though it is clearly designed to use discrete graphics.