EVGA X99 Classified Motherboard Review
EVGA X99 Classified Motherboard Review
Author:

Dennis Garcia
Published:
Tuesday, September 23, 2014

Introduction
One of my favorite platforms over the past two years has been the X79. The X79 chipset was a new workstation platform designed to replace Gulftown. At launch the new processor was called Sandy Bridge-E and shared a variety of featured found in the desktop variant including as an improved memory controller, onchip PCI Express and the extremely popular, and often hated, BCLK (Base Clock). Many of the differences were quite substantial and included twice as many memory channels, twice the PCI Express lanes and up to six physical processor cores in a larger LGA2011 package,
The new Intel X99 chipset brings with it many of the things found in the popular X79 with a few notable additions. The CPU socket has been revised but still features 2011 pins, you will find special K sku processors with only 28-lanes of PCI Express, processors are based on the Haswell architecture and, DDR4. Yes that is right, no more quad channel DDR3. It is time to unleaseh the beast.
In this review we will be looking at the new EVGA X99 Classified. As with other products in the EVGA lineup the Classified name this is the flagship model designed for the hardware enthusiast. The board supports a vareity of different roles including custom system builds, multi GPU setups and any level of overclocking you can imagine.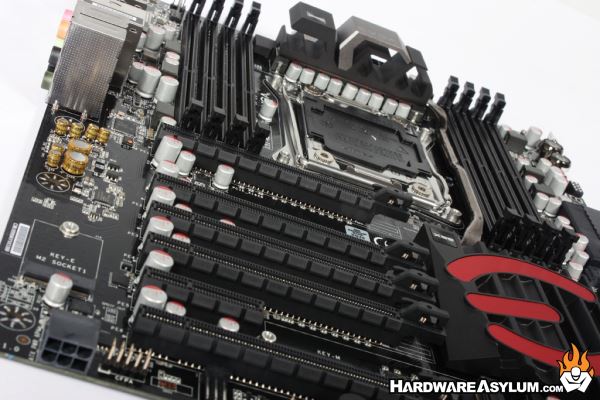 There are actually three different versions of X99 available from EVGA including the Classified found in this review, a X99 FTW which is a full sized full featured mainstream offering and the X99 Micro. The Micro is very intriguing to me, on one hand you have the power of the Haswell-E on a board that will fit into a small case and on the other you leave half of the X99 power behind. As you can imagine the smaller motherboard features a smaller VRM and only comes with three 16x PCI Express slots.
What some people don't realize is that despite the size the X99 Micro is perfectly matched to the Core i7 5820K in both price point and features. Simply put, if you use a larger processor on the X99 Micro you are wasting your money.
Specifications
Performance
Based on Intel X99 chipset
Memory
8 x 288-pin DIMM sockets
Maximum of 128GB of DDR4 3000MHz+
Storage I/O
10 x Serial ATA 6Gb/s with support for RAID 0, RAID1, RAID 0+1, RAID5, RAID10 and JBOD
Expansion Slot
5 x PCIe x16/x8, 1 x PCIe x4
Multi I/O
Audio connector (Line-in, Line-out, MIC)
Integrated Peripherals
Creative Sound Core3D Quad-Core Audio Processor
2 x 10/100/1000 (Intel i217)
Form Factor
E-ATX Form Factor
Length: 12in - 304.8mm
Width: 10.375in - 263.5mm
Aside from the technology differences the specifications don't differ much from the X79 Dark are almost identical to the X99 FTW.