EVGA X99 Classified Motherboard Review
EVGA X99 Classified Motherboard Review
Author:

Dennis Garcia
Published:
Tuesday, September 23, 2014

Included Goodies
Many of us have come to expect more from our high-end motherboards to help justify the additional cost like more onboard features. Thing is we need the included goodies to take advantage of them. EVGA includes a fair amount of parts with the X99 Classified, they are pictured below.

In terms of documentation you get two rather thin user guides that will help you locate all of the key components on the motherboard and offer some handy POST codes located in the back. Sadly the manuals leave much to be desired and I personally find it annoying that you get TWO leaflet style manuals instead of a larger single book. Then again if you never open them it won't even matter.
If you chassis is lacking an external USB 3.0 connection you can use the included breakout and get two more USB 3.0 ports. Much to my surprise the I/O cover is a thin stamped version instead of the normal branded cover. This is likely an oversight with our review sample just don't be surprised if you get one too.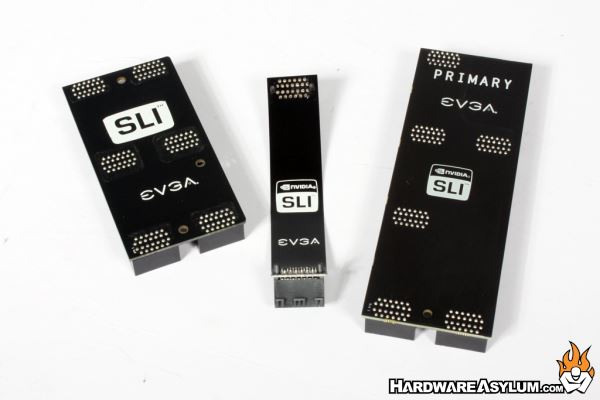 You will get three SLI bridges with the X99 Classified which support 2-way, 3-way and 4-way configurations. SLI support will depend on what video cards you have installed and how many SLI fingers are available.
For those of you interested in trying out GPU Link you will get two sets of GPU Link cables allowing you to connect your video card to the motherboard. As of this review the only video card supporting GPU Link is the GTX 580 though with any luck the new GTX 9 Series cards may have it too.
Despite there being ten SATA ports you will only get six high speed SATA cables. I can think of a few reasons why you may need ten SATA connections and for each one there is a more economical "alternative" so for the sake of argument, six is plenty.