Gigabyte Z77X UP7 Overclocking Motherboard Review
Gigabyte Z77X UP7 Overclocking Motherboard Review
Author:

Dennis Garcia
Published:
Monday, November 12, 2012

Conclusion
The Gigabyte Z77X-UP7 has been well documented starting with a few candid shots from the press room at Computex. The marketing folks didn't talk much about the board except to say their new Ultra Power PWM design enabled them to include so many power phases and that any product announcement would come later in the year.

In looking at other Z77 motherboards you'll quickly realize that nobody really "needs" 32 power phases to run at Core i7 3770K but in the world of overclocking excessive is all part of the plan. There are a few things that make the UP7 special, the first being the extra large PWM comprised of single chip IR Digitial Power Controllers, These new controllers promise higher power output with better efficiency and less heat.

Next, we have a dual path PCI Express system that can completely remove PLX switch latency when using a single graphics card. The system still allows you to run 4-way SLI or Crossfire by simply juggling the cards around. Of course no high-end Gigabyte motherboard would be complete without the Ultra Durable features like 2oz copper motherboard and quality onboard components.

Motherboard layout is rather straight forward and doesn't deviate much from what we have seen with the X79 UD3 and G1 Sniper 3 motherboards. The Gigabyte Z77X-UP7 will support up to four graphics cards with dual slot coolers and two cards with triple slot coolers.

The hardware based overclocking controls are located at the top of the motherboard for easy access. Sadly there was no effort to include PCI Express disable switches making multi GPU debugging a little more difficult.

This brings us to the one thing we dislike on the UP7, the PCI Express card locks and Yes, we hate them. The reason for this is simple, they are difficult to operate, hard to find and extremely small. Of course saying this may not mean much considering that other board makers use the same style of lock but their clips are larger giving you a chance to hit them with a screwdriver or finger.

Overall we really like this motherboard, the colors is nice, the layout is good and performance is excellent but, we are left thinking that Gigabyte didn't really push things far enough to make this the "perfect" motherboard. Things like PCI Express disable switches may seem trivial but the option saves a lot of time when benching and debugging multi GPU configurations. Also, let's not forget that hardware overclocking buttons are a great addition but without a visual indicator it is difficult to tell how many steps you moved.
Good Things
Digital IR PWM
Totally sweet color scheme
Latency Free Graphics Option
Full ATX motherboard
4-Way GPU Support
Voltage test points
Matte Black Finish
Wireless Included
Bad Things
No PCI Express disable switches
Paddle style card locks
Ninjalane Rating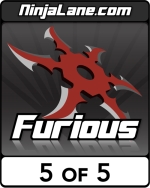 Gigabyte Z77X UP7 Overclocking Motherboard Review
Furious 5 of 5
https://www.hardwareasylum.com