Gigabyte Z87X OC Overclocking Motherboard Review
Gigabyte Z87X OC Overclocking Motherboard Review
Author:

Dennis Garcia
Published:
Thursday, July 18, 2013
Board Layout and Features Cont.
Dual channel memory comes standard on the Haswell processor and the Z87X-OC supports standard speed DDR3 modules up to 1600Mhz with overclocking support up to 3000Mhz. A maximum of 32GB is addressable however a 64-bit OS is required to access it all.

Internal SATA connections number six and follow the new SATA6 connection standard. You will notice two USB headers near the SATA connections, this is a unique feature found on the OC board and is designed to complement benchtop overclockers. The majority of us who use LN2 will position the motherboard such that the I/O panel is away from us to keep cables clear. Unfortunately in doing so all of the available USB ports are not easily accessible. Well, a suggestion from their in-house overclocker was to have USB ports along this edge so you can easily boot from a USB drive and/or save scores without digging behind your system.

You will find a total of eight PWM fan headers located on the Gigabyte Z87X-OC motherboard and scattered around all corners for easy access. You also get a variety of internal connections to compliment any system build including USB3.0, COM, audio and the aforementioned fan headers, three of which are located at the bottom of the motherboard.
Even though the OC board doesn't support 4-way SLI you will find a onboard PCI Express power connection near the CPU socket. This power plug is used to help stabilize video card overclocking and supply extra power to the PCI Express lanes.

Despite the overclocking nature of the Z87X-OC there is still a full featured I/O panel available. If you look beyond the typical location you will find a single combined PS/2 keyboard and mouse plug, six USB 3.0 ports (blue), a single gigabit Ethernet connection, and 8 channel analog audio with digital connections over optical. Onboard video is handled by HDMI and DisplayPort connections.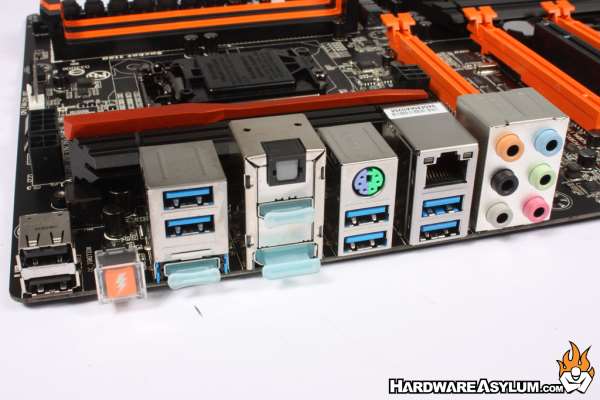 The small orange button on the left is for the OC Ignition feature. OC Ignition is an option that will supply power to your motherboard without actually starting the system. This can be helpful for priming a watercooling loop or simply pre-charging your cooling fans. With OC Ignition active you will have to press the power button twice to actually start the system and once with it disabled.