Gigabyte Z87X OC Overclocking Motherboard Review
Gigabyte Z87X OC Overclocking Motherboard Review
Author:

Dennis Garcia
Published:
Thursday, July 18, 2013
Introduction
Two years ago Gigabyte unleashed a motherboard design specific for the overclocking enthusiast market called the OC. This board was designed in conjunction with their in house overclocker along with feedback from the community to create an industry first. As you can imagine building a motherboard for such a specialized niche can be difficult considering that just about any motherboard can be used for overclocking and the competition knows this.

In this review we will be looking at the Gigabyte Z87X OC motherboard and contrasting many of its features with the Gigabyte Z87X-OC Force. Both the OC and OC Force are part of the OC line from Gigabyte designed for the computer enthusiast and overclocker. Each board targets a different market segment with the OC Force supporting 4-way SLI and multiple graphic setups while the OC takes advantage of CPU based overclocking and popular single video card benching.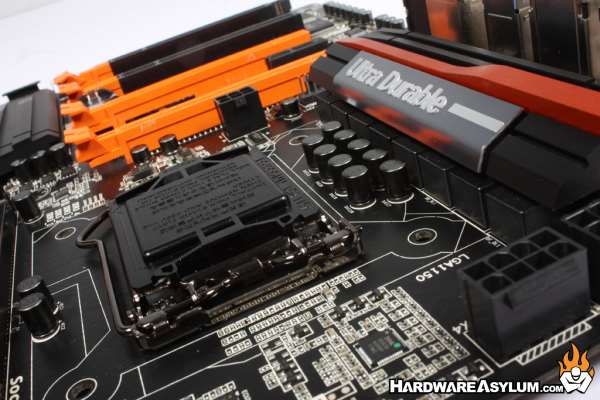 As you can imagine cost for niche market products like overclocking motherboards can be a deciding factor in your purchase decision and you'll be happy to know that these boards are priced very aggressively. For instance the OC Force motherboard sells for about $420USD while the OC sells for an amazing $200USD. We don't normally address costs in our reviews because of pricing and availability but these are really good prices considering what you are getting.

The Z87X-OC is a very unique motherboard and breaks the traditional mold of "more is better" in enthusiast hardware. This is somewhat of a misnomer since the real value is the little things around the motherboard. In terms of overall features and construction the design of the OC is considerably simpler than say the Z87X-UD4H or even the larger OC Force. It will be interesting to see how the public reacts to a motherboard of this design and style but based on our impressions there is very llittle to worry about.