Gigabyte Z97X Gaming G1 Motherboard Review
Gigabyte Z97X Gaming G1 Motherboard Review
Author:

Dennis Garcia
Published:
Thursday, August 07, 2014

Introduction
Pull up your rocking chairs and dust off your brandy glasses we are about to tell a story you may not believe. Back in the early days of computer hardware everything was an expansion card. For instance if you wanted to run a hard drive you needed a controller card. Sound cards were actually cards and modems were often external and knowing this made your choice in motherboard fairly important as you needed room for it all. As technology progressed so did the onboard options. For instance IDE controllers were now part of the chipset but RAID was still done with a specialized controller that is, until it was added onboard too.
Of these new onboard components the most devastating was onboard audio. This single addition effectively killed off an entire hardware segment and has always been criticized for being lackluster and downright crappy. 8-channel audio may sound impressive on paper but, sound quality is determined by the audio PHY chip combined with how it is implemented on the motherboard and later controlled by the drivers. Any flaw in this process and you will experience hollow sounds, cracks, pops and interference. If you are lucky some of this can be compensated with drivers but even that is troublesome since the audio output doesn't always match the input on your speakers or headphones.
In this review we will be looking at the Gigabyte Z97X G1 Gaming. Those of you familiar with the Gigabyte G1 series will recognize the subtle change in naming scheme which corresponds to a major change in the product line. Gone are the military names and Green and Black color scheme in favor of the popular Red and Black and a familiar icon.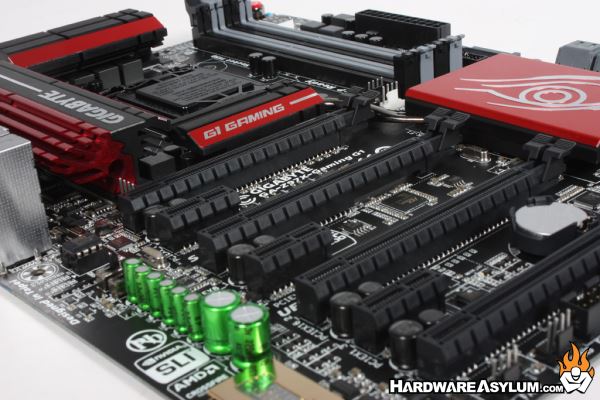 The Z97X Gaming G1 represents the top of the line in the Gaming series and features an aggressive 4-way capable PCI Express layout, Killer Networks Ethernet controller and one of the most impressive audio implementations we have ever seen and heard. In our review of the Gigabyte Z97X OC Force we commented on how the product lines at Gigabyte shifted with the Z97. With this shift the OC boards lost the ability to run 4-way SLI and many of the high-end boards from the Ultra Durable series where updated to become Gaming boards.
Personally we feel this re-org was long overdue considering that many of the high-end Ultra Durable motherboards were wildly overlooked by consumers and the G1 lines were too small for gamers to really find the perfect board for their build and budget. By shifting products and focus Gigabyte can continue spending money on high-end products while still offering quality products to the mainstream.