MSI X99A Tomahawk Motherboard Review
MSI X99A Tomahawk Motherboard Review
Author:

Dennis Garcia
Published:
Monday, September 19, 2016

Motherboard Layout and Features
The MSI X99A Tomahawk is a full ATX motherboard featuring a matte black PCB accented with grey and black heatsinks. These heatinks are very plain but are made from solid chunks of aluminum with a sandblasted texture to create the color differences. The motherboard also features an EMI shield to protect the onboard audio and cover the I/O connections.
Looking at the back of the motherboard we can get an indication as to how the PCI Express slots are wired and determine which slots are primary and secondary in terms of bandwidth. There are a few surface mounted components and at the top you will find a VRM heatspreader used to normalize MOSFET temperatures.
On the X99A Tomahawk you will find a total of eight power phases for the CPU, Ring and PCI Express. This may not seem like much but is typical of an X99 motherboard, even those designed for LN2 overclocking.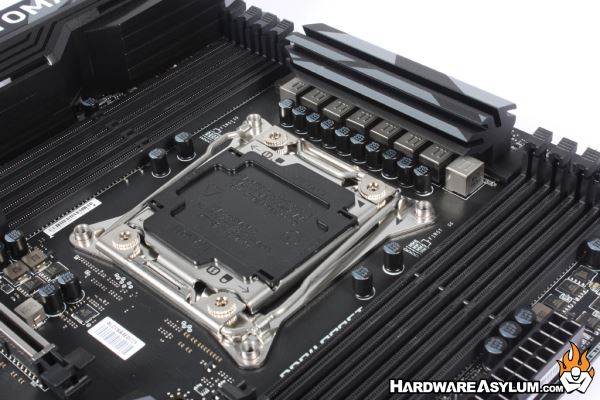 Quad channel memory comes standard on the LGA 2011 platform and the X99A Tomahawk supports DDR4 modules at 3333Mhz+ with a maximum of 128GB usable. 24pin ATX power is located in the traditional location near the upper edge of the motherboard and out of the way of most intake fans.
Behind the PWM cooler you'll find the CPU Power connection made up of a single 8-pin connector. Given the location the cables they should be easy to hide in any modern chassis and is well hidden behind the large VRM cooler.