MSI X99A Tomahawk Motherboard Review
MSI X99A Tomahawk Motherboard Review
Author:

Dennis Garcia
Published:
Monday, September 19, 2016

Introduction
The next generation of X99 motherboards was released earlier this year during the launch of Broadwell-E. While this CPU will run on existing X99 motherboards there was is a real opportunity to make the most of it and release a few new products and better align them with current technology. One of the biggest shifts between then and now is a change in storage connectivity. When X99 was initially released M.2 wasn't really a thing despite there being mSATA devices the M.2 PCI SSD storage option wasn't widely used.
These days we have available M.2 SSDs and and are starting to see U.2 drives which allows PCI Express drives to work much like current SATA systems with a flexible cable. This upgrade in storage technology will change how PCI Express is implemented and move it from being dedicated to high-end multi-gpu configurations to things like large storage arrays with minimal system footprints.
In this review I'll be looking at the MSI X99A Tomahawk. This motherboard is part of a new generation of gaming motherboards as part of the MSI Arsenal Gaming series. These boards are covered in full black camouflage, feature LED ambient lights and a full assortment of gaming features.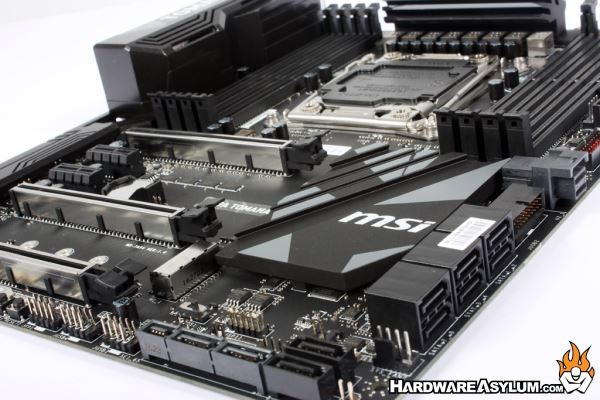 Arsenal Gaming is a new series for MSI and currently includes ten motherboards with military weapon based names such as Tomahawk, Mortar, Bazooka and Gernade. Each feature a wide variety of different chipset combinations from the X99 featured in this review to the Z170 and B150M. Currently the X99 Tomahawk is the only X99 LGA 2011-v3 motherboard in the Arsenal Series making it both special and fairly unique.