Cooler Master V650 Gold V2 White Edition Power Supply Review
Cooler Master V650 Gold V2 White Edition Power Supply Review
Author:

Dennis Garcia
Published:
Monday, September 28, 2020

Introduction
I don't know a about you but, there is nothing worse than a noisy power supply fan. Imagine this, you build an awesome PC, full DIY loop watercooling, RGB to the hilt and the only thing rotating in your PC are the fans. Case and radiator fans are easy to control however then PSU has a mind of its own.
There are a number of ways to solve the PSU fan problem. The first and, arguably, most expensive is buying an oversized 80 Plus Gold or higher rated PSU in hopes that the fan will always stay at the lowest setting. Or, you can invest in a PSU with an active fan controller that will only activate when the PSU is operating above a certain threshold. Cooler Master calls this a "Semi Fanless mode" and is one of the many features found on the Cooler Master V650 Gold – V2 White edition power supply.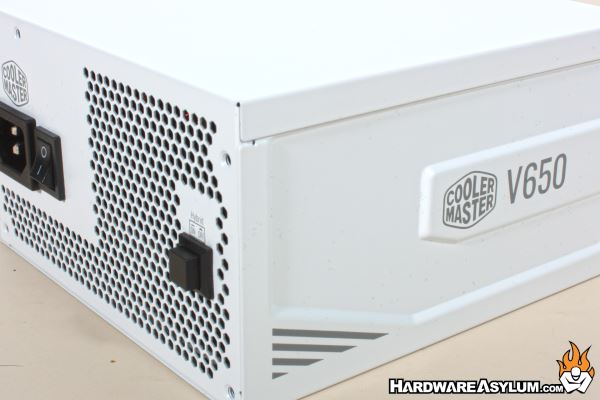 In this review we'll be looking at the new Cooler Master V650 Gold V2. This is a fully modular 650w PSU with a 80 Plus Gold rating. The Gold rating means that the PSU is at least 90% power efficient when operating at 50% load allowing it to deliver more power to your system while producing less heat.
A fully modular PSU indicates that every cable can be physically removed from the PSU. This can really help when it comes to building a PC when it comes to cable management and trying to route and hide the unused cables. Simply remove the cables you aren't using and make cable management a breeze. Of course if you happen to upgrade your build and need another cable, pull it out of storage and away you go.
An important thing to note is that cables from modular power supplies are not universal and the cables for the CM V650 V2 may not work on other Cooler Master power supplies or PSUs from other manufacturers. When upgrading it is best to consult the documentation before mixing and matching cable sets.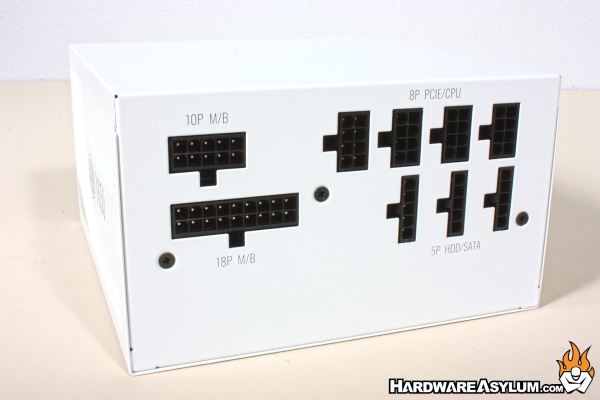 As you can see here the modular plug layout is following an older CM standard with a split 24-pin main cable and 5-pin rows for the Molex and SATA plugs. Cables in this configuration are usually interchangeable. This is great news for those of you using custom sleeved cable sets.
Any good power supply will come with a power switch. This allows you to completely turn off your PC when it is no longer in use and is just as effective as pulling the cable from the wall.
It also gives you a way to quickly disable your build if you have some catastrophic failure like having a hardline tube blow off at a LAN party right before your tournament is about to start. *yikes*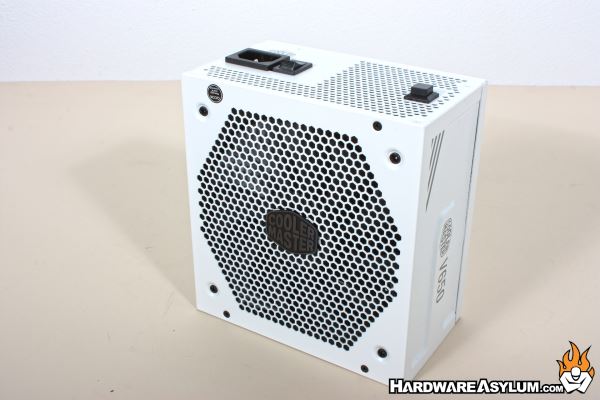 I had mentioned how the V650-V2 is "semi fanless" and that speaks to two aspects of the cooling system. The first is that the fan will disengage when the PSU is operating under 40% of capacity. Of course, if you would prefer to override this you can do so by pressing the Hybrid button to disengage the fanless mode. This appears to follow a more traditional curve where the fan is still disengaged but will spin at a much lower load level.
The fan featured in the Cooler Master V650-V2 is a 135mm Fluid Dynamic Bearing fan with noise level of 32dBA @ 1500RPM. Keep in mind that this value will change based on your loading conditions.
Cables
Of course every PSU is only as good as its cables. With the Cooler Master V650 Gold-V2 White Edition you get a full set of white cables! The cables bundled with the V650 V2 are also the larger 16AWG (Gauge) and configured in the popular "flat" configuration.
1x 24-pin (20+4) main power cable which is 650mm long (24 inches)
2x 8-pin (4+4) CPU power cable which is 650mm long (25 inches)
Other cables include:
Two PCI Express cables with two 8-pin (6+2) connectors at 67mm long. These cables can power two video cards with dual power connectors each. If you happen to be lucky enough to be running an EVGA KPE or MSI Lightning with three power sockets you'll be limited to one card.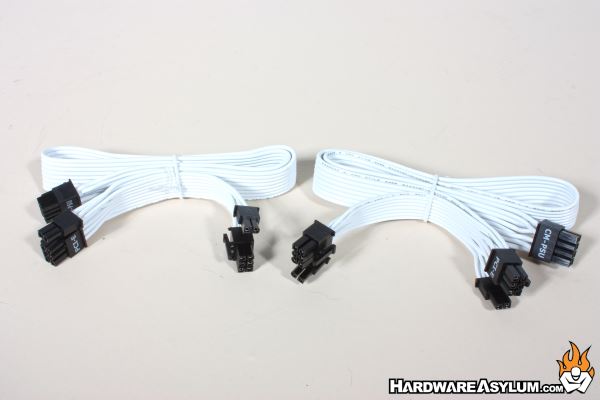 The final two cable sets are for your drives. You'll get two SATA based cables with four connectors each and one Molex based cable with four connectors.
Both cables are 860mm long.
The Cooler Master V650 Gold V2 fills a very common niche in the system building world that many system builders do not take advantage of. For instance buying a 80+ Gold PSU over a Bronze or Silver provides more than power efficiency as it will also reduce noise while drawing less power overall. Of course you will pay a little more but can also get away with adding more components to your build.
That is to a certain point.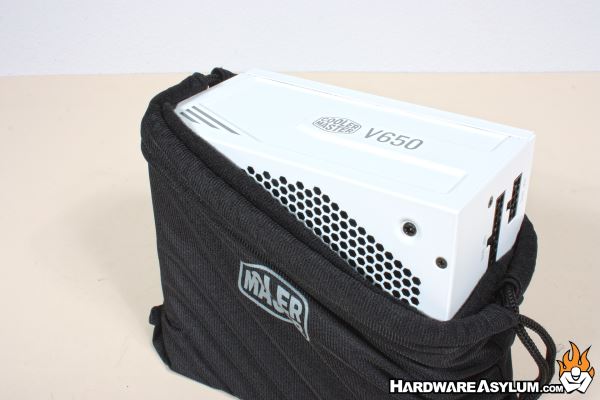 Conclusion
The new line of V Gold V2 power supplies feature four power levels starting with 550W and ending at 850W. All feature a modular design and are available in both White and Black editions. Each edition also comes with a matching cable set so to better match your builds.
PSU cooling is handled by a Cooler Master 135 Fluid Dynamic Bearing fan that is backed by a solid noise prevention system. By default the PSU will only activate the fan when the system is operating above 40%. Below that the PSU is in silent mode.
When testing this PSU I had it powering a Core i9 9900k system with an EVGA RTX 2060 KO and after 30minutes of operation the PSU temperature rose to 34c and not once did the fan kick on even after multiple runs of Cinebench and SiSoft Sandra. When I disabled the Hybrid cooling mode the fan would remain off until a load was applied to the system at which point the fan quickly spun to (what seemed to be) 100%. This quickly cooled the PSU down several degrees, Subsequent runs offered a lower fan RPM while offering the same level of cooling.
I can honestly say that the PSU is indeed silent when running in Hybrid mode and not so much when operating in performance mode.
Overall, the new V650 Gold V2 from Cooler Master is a sharp looking power supply that finally gives system builders an out of box option to color match their builds in colors other than black. The clean design and distinctive style to the chassis gives the PSU an understated look that should work well with any build and not matter if the basement of your case is fully covered or partially exposed. The white 16AWG cables are bright and quite flexible considering their gauge and should be easy to clean given their vinyl insulation. Not really an option with the custom sleeved designs you can get in the aftermarket.
Be sure to check out Cooler Master for more information on this line of V Gold V2 power supplies.