SilverStone QIB052-D QI Wireless Mobile Changing System
SilverStone QIB052-D QI Wireless Mobile Changing System
Author:

Dennis Garcia
Published:
Wednesday, June 07, 2017

Introduction
Keeping your mobile devices charged is a problem we all have faced and while devices are becoming more efficient you still have to balance device usage and power consumption ensure you have power between charges. Most of us use the factory charger which is great but not always convenient when you are away from home. For those moments a car charger or portable battery pack can be really handy.
In this review I'll be looking at the SilverStone QIB052-D more commonly known as a wireless mobile charging station. The QIB052-D supports a variety of charging options with the highlight being QI wireless charging which allows you to do a proximity charge on supported devices.
A full list of supported devices can be found on the SilverStone website including the Samsung Galaxy S7 that I used for testing.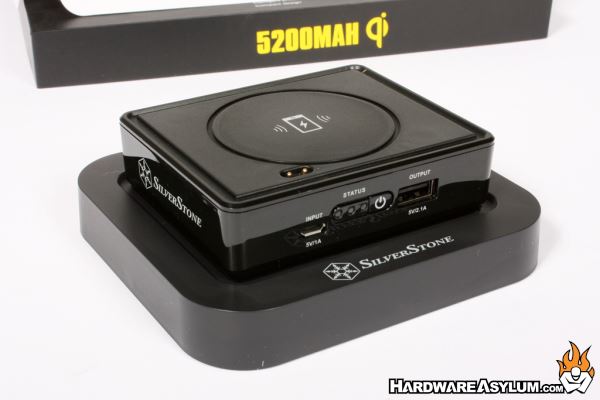 SilverStone offers two QI wireless charging products including the QIB052 and QIB052-D. The main difference between the two is the inclusion of a docking station allowing you to charge your QIB052 by simply placing it in the magnetic cradle.
The QIB052 is a 5200mAh portable battery with the QI wireless charging option located across the top of the device. You'll find a 2.1A charging port located along the front edge of the device next to a status LED, power button and micro USB charging port for when you are away from the docking station.
If you have three QIB052 modules you can stack them on a single docking station to charge all three at once. The two copper pins are how the electrical connection is made and the channel around the outside help to align the modules to make proper contact.
Usage and Conclusion
Like many of you I have a good number of external battery packs so what makes the SilverStone QIB052 any different? In a word "convenience". One of the biggest problems with external batteries is keeping them charged and the larger the battery the longer it takes. With the QIB052 you can drop it into the docking station to charge while you are home and grab it when you are ready to leave. If you have more than one QIB052 you can swap the battery modules or simply take them all.
When it comes to charging your devices simply have the QIB052 on your desk and place the device on top. A quick beep will let you know it is connected and when you are ready to leave simply grab your device and walk away. No more cables to unplug saving you time and embarrassment.
It takes about 4.5hours to fully charge the QIB052 battery when using the included docking station. With that I was able to charge my Samsung Galaxy S7 from 5% to 100% in about 3 hours using the QI wireless option and would almost deplete the 5200mAh battery. As you can imagine QI charging is about 70% efficient and only puts out around 1A of power.
The only real drawbacks are that you shouldn't charge the battery and a device at the same time and the wireless charging function takes battery power to operate which means you need to turn the QIB052 off when it is not in use as it will completely drain the battery. Of course if you leave your QIB052 on the docking station you can leave it active and once the internal battery has charged you can charge whatever you want.
For me I like the idea of having an portable charging option for those times when I under estimate how much I use my device. With the SilverStone QIB052 I now have the benefit of a compact mobile battery that I can use without needing to drag out a cable which only takes up space and loves to get tangled up.
Good Things
QI Wireless Charging
Supports Three QIB052
Stackable Design
5200mAh Internal Battery
Dual Charging QI and Cable
Bad Things
Needs to be turned off when not in use