CM Storm Ceres 400 Ultra-Portable Gaming Headset Review
Author:

Dennis Garcia
Published:
Monday, October 29, 2012
Introduction
As a gamer and LAN party enthusiast, good headphones are a must! When Cooler Master offered a pair of their latest Ceres 400 Ultra-Portable Gaming headphones I jumped at the chance to take a closer look. From their popular CM Storm line, the Ceres 400s promise to deliver all the gaming goodies in a portable and affordable package.

The Ceres 400 headset is a stereo design built around high quality 40mm drivers. For comparison, this is the same driver size used in Dre Beats Studio headsets and with the same dynamic range. Connectivity comes from set of standard 3.5mm jacks with no driver needed. This means the Ceres 400s can be used with practically everything with analog audio connections.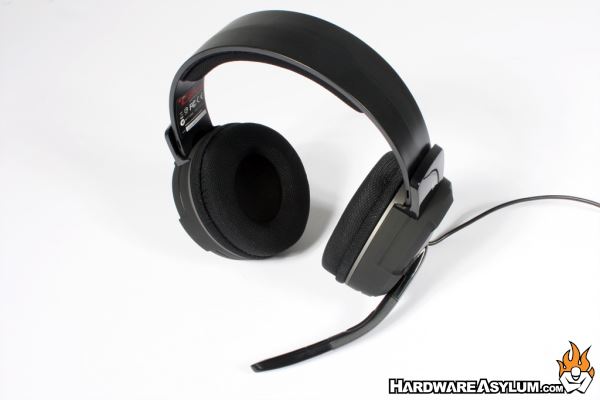 Specifications
Model Number SGH-2010-KKTA1
Headphone Driver
- diameter: ?40mm x 7.5 mm(H)
- Frequency range: 20 - 20,000 Hz
- Impedance: 32 ?
- Sensitivities(@1kHz): 108 dB ± 4 dB
- input: 100mW
- Connector: 3.5 mm headphone jack
- Inner Ear Cup Diameter: 90 mm
- Cable Length: 2.5m
Microphone
- Pick Up pattern: Noise-cancelling
- Frequency range: 100 - 10,000 Hz
- Signal-to-Noise Ratio: 50dB
- Sensitivities(@1kHz): -38 dB ± 3 dB
Hardware Requirements
- Audio Usage: Devices with 3.5mm audio jack
- Audio + Microphone Usage: Devices with 3.5mm audio + microphone jack(smartphones)
Following the theme of all CM Storm products the Ceres come only in a clean black with red trim. The ear cups and top padding are made from a fabric they call Soft-Touch. Initially I found the headset cups a bit stiff and just small enough to remind me of an on the ear design. After a good day or two of use things felt a lot better.

I used the Ceres 400s for gaming directly through the Gigabyte Sniper 2's excellent built in Creative HW audio 20K2 hardware. I must admit I prefer a good set of surround headphones for gaming but the Ceres 400s did surprise me with both the quality of the sound and the separation. To test out the portability aspect I toted them to work for use on my Samsung AIO box. In route I connected them to my iPod to really push the definition of portable. The 2.5m (~8 foot) cable is just about the right length for gaming but a bit long for rocking the iPOd though!

Overall sound quality shines best when connected to a quality source that can provide the power necessary to drive the full frequency range since no built in amplifier is provided. I found that things really shined for music and when games were set to a stereo driver. The noise cancelling mic sounds clear and rivals the quality I get with headphones costing three times as much.

Conclusion
The CM Storm series continues to impress me. The Ceres 400 Ultra-Portable Gaming Headset is a solid entry level gaming headset. The quality of the fit and finish match the high standards we have come to expect from the CM Storm line. Sound quality is more dependent on the source hardware but given the right source the Ceres performs like a champ.

A good gaming headset is a must and the Ceres 400 gets the job done at a price point that is honestly hard to beat. I would always recommend a good surround sound unit but if portability and budget are major factors, the Ceres 400 Ultra-Portable Gaming Headset is right on the money.

Available Images