Creative Sound Blaster K3+ USB Audio Processor Review
Author:

Dennis Garcia
Published:
Wednesday, May 16, 2018
Introduction
Readers of Hardware Asylum, and NInjalane before that, will know that we have a monthly computer hardware Podcast. The show focuses on the PC Hardware community with a touch of overclocking, casemodding and PC gaming. Currently this is an audio only show and setting it up is a rather involved task including setting up a PC, hooking up the USB audio interface, headphones and microphones.
While connecting everything goes pretty quick that wasn't the case the first time the hardware was setup. For instance drivers had to be installed to run the Focusrite Scarlett 6i6 and then it had to be tuned for handle the two R0de Procaster microphones we use. As with any dynamic microphone the preamp needs to be set correctly to ensure that excess noise is removed and that you still have ample amplification in your recording.
That process took the better part of 4 hours and is still something we tune every time we sit down to record.
Of course there is always room to grow with any recording setup. We could use different microphones or a different audio interface with the end result being either a faster setup, more control over the recording process and/or higher quality recordings. The one thing we never added was a hardware based mixing system and sound effects.
In this review I'll be going over the Sound Blaster K3+. This is a USB powered recording and streaming mixer with sound effects processing and a built in sound board. In my Podcasting setup I have many purposely selected components. For instance the microphones are studio quality and the audio interface has external power. It is a hardware based interface but configured by software to be flexible and compact. This is different from a hardware mixer where you may get a series of dials to control mix levels and tune your audio.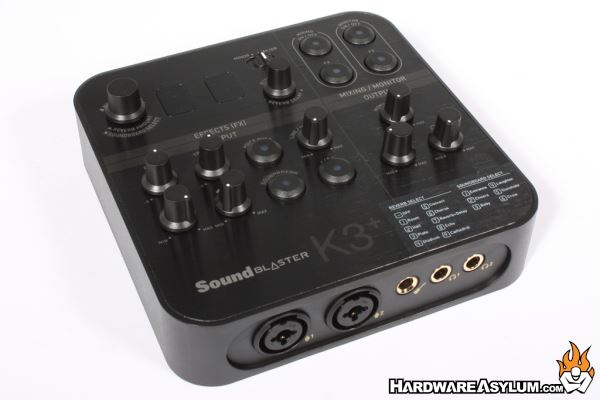 The Sound Blaster K3+ falls into the mixer category and can be used for a variety of different purposes. Music professionals can setup a mix between microphone and instrument and have the output recoded via USB and monitored using headphones or external speakers. Audio artists will enjoy many of the sound processing features such as hardware based Reverb and Auto Tune.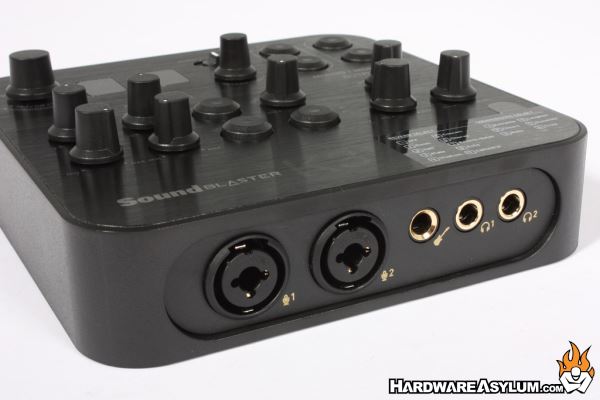 Streamers can use the K3+ in a similar manner. The USB interface will hook into the streaming application and mix with the game audio. This allows the streamer to use higher quality studio XLR microphones instead of lower quality USB mics. One interesting feature is the hardware SoundBoard clips that can inject canned audio clips into your stream at the touch of a button. Choices include, VIP Entrance, Cheers, Baby Laughter, Audience Laughter, Gunshots and Crow Caws.
Sadly these sound clips cannot be replaced but are generic enough for use with almost anything.
The Sound Blaster K3+ does come with Bass and Treble controls and a handy Voice Over Effect that will suppress background audio when you speak so your voice is always clear.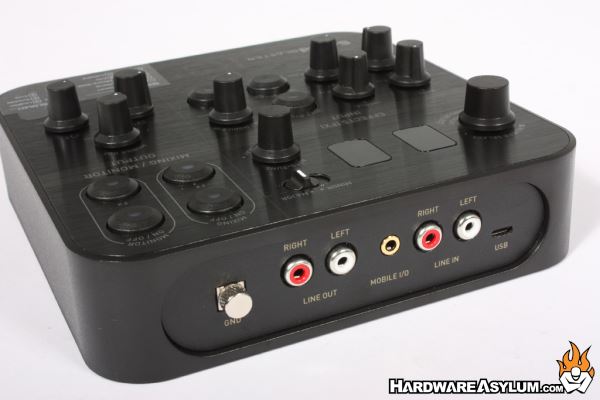 One of the hidden features of the K3+ is the inclusion of a 4-pole Mobile input. This allows you to play and record directly from a mobile device and do Karaoke style streaming on apps such as Smule, Belive and Loops. The built in K3+ audio processor can also apply autotune and other effects to your recordings to make you sound completely different.
Testing and Impressions
When I first fired up the Sound Blaster K3+ I was honestly looking for a driver disk. The system detected the device and never prompted me for anything this making me assume it was needing something. Nothing had installed and honestly, I didn't think it would work. (Imagine that hardware just working when you plug it in!)
Moving on I checked my PC audio settings and noticed that the K3+ was indeed active so I started plugging in one of my R0de Procasters and a pair of headphones. After about 3 minutes of fiddling I was ready to record and was really impressed in the monitoring quality. I noticed Zero lag on the monitor mix and the audio quality was really good.
At the top of the unit there are four buttons related to mixing and monitoring. They are helpful so that you can hear what is being recorded and what effects are applied. Sadly every button click gets recorded as a loud snap so that will need to be moinitored and if you leave the FX monitoring enabled and don't have any effects activated you get some weird feedback from the audio post processor.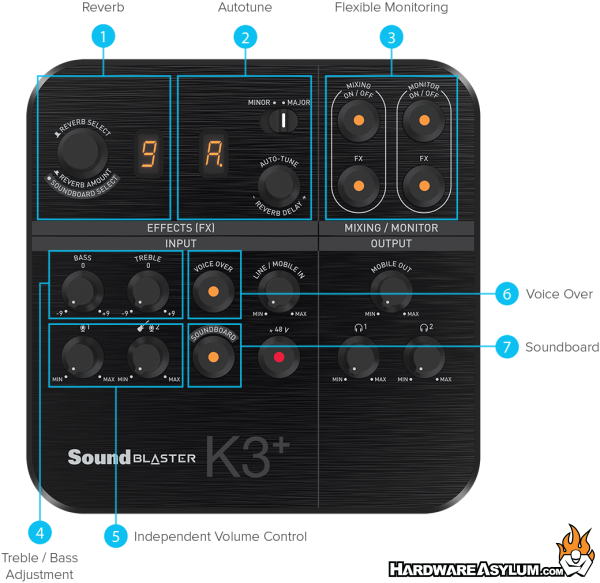 Early in this review I talked about how I use the Focusrite Scarlett 6i6. This is a USB audio interface similar to the Sound Blaster K3+ however it is also externally powered. The extra power comes in handy when running Dynamic microphones and for high ohm headphones which is something most USB devices cannot deliver.
When I tried to run the Sound Blaster K3+ with my Procaster dynamic microphones I had to turn the microphone gain up all the way which not only introduced noise in my recording and still wasn't loud enough. Lucky for me I have a couple Fethead pre-amplifiers that work to boost the dynamic microphone signal before it gets to the auto processor. The intent is that you to use less microphone gain and get cleaner sound. The Fethead requires phantom power and after a quick gain adjustment I was back to recording.
To be totally honest this is 100% what I had expected and also not required when recording on my Focusrite device.
On a positive anyone recording with an XLR condenser microphone will not have any of these issues when recording on the Sound Blaster K3+. The onboard phantom power and 24-bit audio processor do a great job at delivering high quality recordings and has the added benefit of being cheaper too.
The final item is the mixing effects and SoundBoard. Both of these are great features for the K3+ and given some time and tuning they can really add some value to your recordings and game streams. For instance playing the entrance sound when you start your stream and add a bit of Crow Caw with every death might be what your stream needs to stand out. Just be careful not to become a morning DJ by overusing the sound board.
Conclusion
Overall I really like the Sound Blaster K3+. It is extremely easy to setup and supports a wide variety of equipment configurations from standard XLR microphones and instruments to mobile singing apps, sound effects, auto tune and reverb. I can easily see this device being used for a variety of uses from game streamers, to amateur recording artists and casual podcasters. It isn't' designed to compete with professional quality equipment but can deliver excellent quality sound with enhanced features at a reasonable price.
Good Things
Dual XLR Inputs
Dual Headphone Outputs
High Quality Sound
RCA Line In and Line Out
Mobile Recording Ready
6 Modes of Operation
No Drivers Needed
Plug and Play
Bad Things
doesn't support dynamic microphones well?
pressing buttons records clicks in output
dial a feature not easy
cannot change soundboard or canned effects