Sound BlasterX Pro-Gaming G1 7.1 Portable USB Sound Card Review
Author:

Darren McCain
Published:
Wednesday, July 13, 2016
Introduction
Sound Blaster sound cards have been around since the infancy of DIY PC building. Most enthusiasts have had at least one good Sound Blaster product and probably have a good story to go along with it. With the growing popularity of personal media devices and budget friendly laptops, most of us have been living with mediocre onboard sound options despite shifting our media over. Creative wants to change that with their latest USB sound card the Sound BlasterX Pro-Gaming G1 7.1 Portable Sound Card.
Ok, it doesn't work with everything *Cough Android Cough*, but with PC, Mac and even PlayStation 4 the BlasterX Pro-Gaming G1 has a good start at saving you from your on board sound!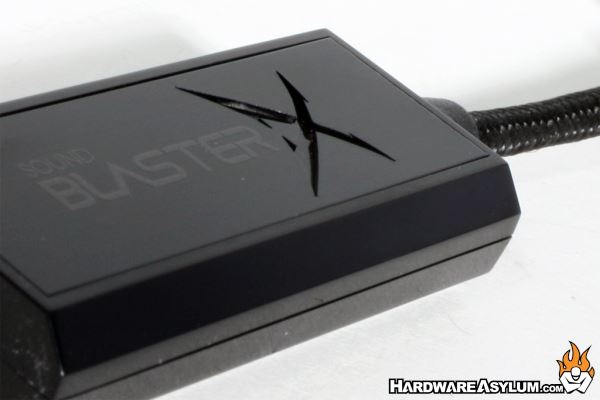 The BlasterX Pro-Gaming G1 isn't exactly eye candy with its all black construction just about the size of a USB drive. It's Sound BlasterX Logo isn't bright or flashy even with the cool X cutout lit up in a soft red. But maybe that's the point. You don't need a flashy device attached to your tablet or laptop. You just need a device to disappear and do its job.
Let's take a look under the hood.
Specifications
Connectivity Options (Main): 4-pole Headphone-out with Mic: 1 x 3.5mm jack
Max Channel Output: Stereo
Audio Technologies: X-Plus, Scout Mode
Supported Operating Systems: Mac OS X v10.8 and above, Windows® 10, Windows® 8.1, Windows® 8, Windows® 7, Windows Vista®
Audio Fidelity: Up to 24-bit / 96kHz
Platform: USB 2.0, USB 3.0
Features
Sound BlasterX G1 supports 7.1 input signals for realistic virtualization of gaming effects and audio cues with perfect accuracy and positioning to your headphones.
Free yourself from having to use crappy headphones. Sound BlasterX G1 powers headphones of up to 300Ω, which means you can use higher-rated headphones and yet experience thunderous audio from your games.
Available for Windows®, the fully customizable BlasterX Acoustic Engine Pro gives you unprecedented control over your listening experience with audio realism and immersive audio effects that intelligently decreases distractions and enhances game play. From the whizz of bullets flying past your ear in your favorite FPS game to the terrifying roar of a troll from an adventure title, the essence of your game comes alive with our professionally tweaked enhancements!
Only when combined with the Sound BlasterX H5, this mode allows you to change the sound signature of the H5 headset when it's connected to the G1 soundcard on a hardware level for an unfair advantage over your opponents through our ever expanding list of supported games!
Creative is the worldwide leader in digital entertainment products. Founded in Singapore in 1981, Creative started with the vision that multimedia would revolutionize the way people interact with their PCs.
Famous for its Sound Blaster sound cards and for launching the multimedia revolution, Creative is now driving digital entertainment with cutting-edge audio solutions, premium wireless speakers, high performance earphone products and portable media devices. The company's innovative hardware, proprietary technology, applications and services enable consumers to experience high-quality digital entertainment - anytime, anywhere.
Since launching the phenomenally successful Sound Blaster sound cards and setting the de-facto standard for PC audio in 1989, Creative has been able to leverage on its leading-edge audio technology, a huge user base of 400 million, and strong brand name to expand into the exciting lifestyle Personal Digital Entertainment (PDE) market.