Creative Sound BlasterX H5 Gaming Headset Review
Author:

Dennis Garcia
Published:
Tuesday, March 01, 2016

Testing and Conclusion
When testing the Creative Sound BlasterX H5 Gaming Headset I did so over the course of two weeks with one long weekend being at a local LAN event. The LAN lasted three days and I played a variety of my favorite games. In conjunction with the H5 I also matched it up with the BlasterX G5 headphone amplifier which not only delivered optimal virtual 7.1 surround sound but also took the place of the Acoustic Engine software you would normally install.
During the LAN event I effortlessly wore the H5 Headphones for the entire gaming session and at one point forgot I was wearing them. Sound isolation wasn't perfect but worked well enough to block the event PA system to the point where I knew they were saying something but couldn't tell what it was. Some of that can be attributed to overall volume.
When connected directly to my PC the BlasterX H5 was much quieter than my Pioneer HDJ-2000 headphones that I normally use. These are a high quality DJ style headphone with sensitive drivers. The BlasterX H5 was not as sensitive and required more wattage to drive the same sound pressure. At first this was a mild disappointment until I connected the H5 Gaming Headset to the BlasterX G5 Audio DAC and realized that while you can use these headphones by themselves their full potential is not realized until they have been amplified slightly.
Sound quality was exceptionally good. I say that knowing that while my ears are still sensitive I am no audiophile but can recognize subtitle things in the audio stream. Overall I was impressed with the level of clarity and definition the H5 brought to my games. The BlasterX G5 Audio DAC provided the virtual 7.1 surround sound and I was simply amazed and how well the H5 Gaming Headset reproduced the sound stage.
Good Things
Comfortable Headset
Lightweight
Good Sound Quality
Detachable Microphone
Bad Things
PC audio plugs are not well marked
Speakers are quiet and require more volume
Hardware Asylum Rating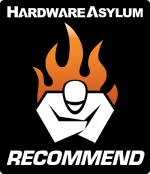 Creative Sound BlasterX H5 Gaming Headset Review
Recommend
https://www.hardwareasylum.com