Diamond Xtreme Sound 7.1 External Sound Card
Author:

Warren Young
Published:
Thursday, June 26, 2014

Introduction
Ah, the nineties. Fresh Prince was on the TV and sound cards were a growing part of every top-end household PC. Not only did they put us past the archaic beeps and boops of the era but also added a level of Xtreme! to everything. We had the inaugural X-Games, the Chevy Xtreme, and for a time, the whole world forgot that there ever was a third-E in "extreme".
Then the 21st century arrived. We put the E back in "extreme", Fresh Prince was in syndication, and motherboard manufacturers began integrating audio onto their boards. For a time the world seemed to have gotten a bit more structured with a clear vision of the future.
Modern computing continues to shrink at an incredible pace. Ultra-thin notebooks and tablets are all the rage and small form factor computing is making a comeback. Of course as components get smaller so does their proximity of there functions. While the obvious advantage is size and cost the drawback can be increased interference, distortion, and degraded audio quality. So, what can be done to help improve and enrich the modern audio experience if your system is lacking in the department? Well, we can start by taking some advice from our past, and get a dedicated sound card.
It is time to dust off those old neon clothes and toss out that third-E, we are about to get Xtreme again with the Diamond Multimedia Xtreme Sound 7.1 HD external sound card! Diamond Multimedia is familiar with the audio market and cut their teeth in the multimedia expansion cards back in the 90s designing high-end sound cards, video cards, and motherboards.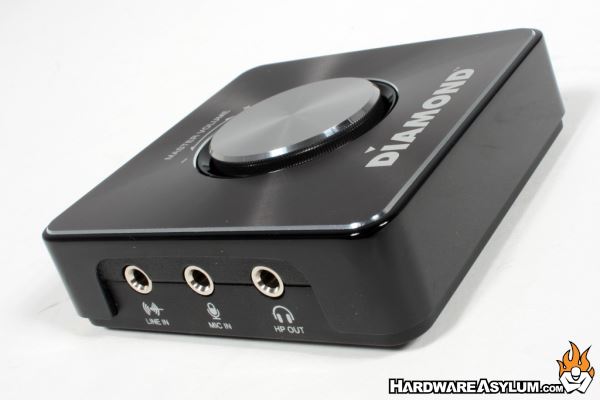 Specifications
Portable 24bit / 192 kHz audio
7.1 channel output, with a 108dB SNR
Front RCA stereo outputs, with side, rear, center and subwoofer outputs
Built in optical output and inputs
Analog line-in port for recording
As you can see, the Xtreme Sound 7.1 HD is quite small and stylish. The exterior features a brushed aluminum exterior, clean plug lettering and crammed with features asked for by the modern day audiophile.
The 7.1 surround sound ports run along the back of the Xtreme, with the RCA ports brightly marked, and the surround sound ports cleanly labeled.
Along the side are a set of 3.5mm plugs. The analog line-in plug gives you the freedom to plug in your MP3 player of choice and play your favorite music through it. It also comes with microphone and headphone ports to run your gaming headphones through it for crystal clear sound and voice output.
Located on the other side you will find a single USB input plug along with an optical input so you can hook it into any digital component (console, Blu-ray, DVD player, etc.) of your choice. You also get a optical output to run it to a digital receiver or television.
A small switch is hiding underneath the Xtreme, allowing you to switch data read rates at USB 1.0 or USB 2.0 speeds, depending what you currently have it plugged into.
To get you started you will find a USB cable and RCA cable in the box along with a driver CD and basic instruction manual. You won't get either of the optical plugs for input or output, or the other cables to support surround sound but, those should be readily available depending on your particular sound system.