Tunai Wand Wireless Home Audio Adaptor Review
Author:

Dennis Garcia
Published:
Wednesday, October 02, 2019

Introduction
Wireless devices have become very popular over the past several years and benefit greatly from advances in digital radio technology. These advances help ensure that data is transmitted faster and more accurately which pave the way for new opportunities. A good example of this is WiFi 6 or 802.11ax which is claiming a 4x increase in throughput to lower latency and data transfers. While this sounds pretty good for a home network the real benefit comes when you MESH several access points together allowing the nodes to communicate faster and handle more users.
Another example is a little more personal and involves Bluetooth. For years Bluetooth has been a preferred method for linking accessories to mobile devices, personal headphones and even gaming accessories. Much like any network you can layer codecs and compression algorithms to increase throughput and lower overall latency allowing good things to happen.
In this review we will be looking at the Tunai Wand. This is a Bluetooth transmitter designed to enable wireless audio capability to systems that would otherwise not have that feature available.
The Tunai Wand can be used in a variety of different situations and a perfect example is in your home theater. Imagine that you are watching a movie however, due to the time of day the volume must be kept at a minimum. You can either turn the volume down, which is never a preferred option or connection your headphones to the TV or Receiver which is a hassle due to the cable being in the way.
With the Wand you can solve both problems by sending the audio to a Bluetooth enabled headset allowing you to set the volume at a desired level and no longer having to deal with headphone cables. Of course watching movies isn't the only use. For those who have exercise equipment in their TV rooms the Wand can allow you to watch TV while you are working out and even allow gamers to share game audio with friends while not disturbing the rest of the house.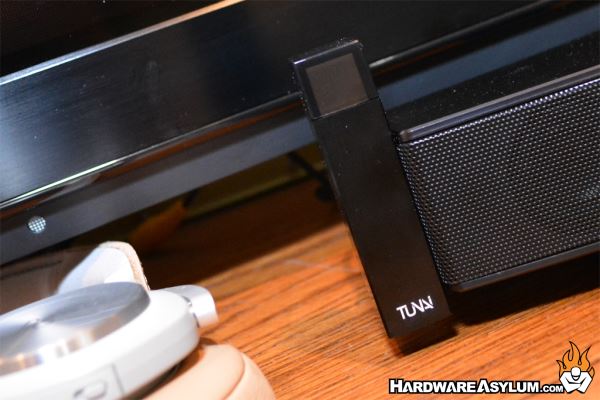 The Wand is quite small measuring at just 0.67in x 0.67in x 2.95in (17mm x 17mm x75mm) and a large part of the design is the activity light. The body is made from black anodized Aluminum with a hairline brushed finish while the top is made from transparent PET allowing light to escape and also function as an input toggle. Thanks to a set of built in magnets, you can place the Wand on just about any ferrous surface so it can be neatly tucked away. Tunai also suggests that if the magnets are ineffective you can use a Command Strip or 3M tape due to the size being the same.
Features
Wireless audio hub for home entertainment – Stream audio to headphones
Long operation range – Freedom to move around with quality sound
Lip-sync delay free – Video and audio synchronized
Multiple source input – Allow audio from analog, optical and USB
Dual device connection – Stream audio up to 2 devices simultaneously
World's smallest and most compelling Bluetooth transmitter
Specifications:
Bluetooth 4.1
Profile support: A2DP, AVRCP • CODEC support: aptX, aptX low latency, SBC
Operation range: up to 164ft / 50m (open air) *1
Max device connection: 2 devices*2
Audio input: AUX, SPDIF, and USB
Product dimension: 0.67in x 0.67in x 2.95in / 17mm x 17mm x75mm
Weight: 0.77oz / 22g
*1: Operation range may vary by environment, receiving headphone and devices.*2: aptX low latency is not supported when connecting with 2 devices simultaneously.
Connectivity options include AUX, SPDIF, and USB with the SPDIF located on the bottom side. Power is provided by USB making it the only required connection which can be from an available USB port or from a power adaptor.
When connecting the Tunai Wand you need to ensure that the correct input is selected for your device. All three inputs can accept and transmit audio provided that the correct color is selected. Blue indicates an Analog connection (3.5" AUX jack), Red for MicroUSB and White for optical SPDIF digital connections.
aptX Low Latency ensures that the audio being transmitted is synchronized perfectly with the source material and supported codecs maintain excellent audio quality.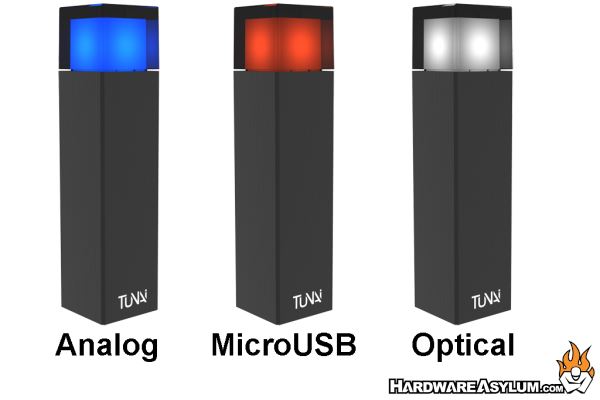 Paring the Wand is pretty simple. Turn it on and the light will flash as it detects available devices. If your headphones are in range and open for pairing they will quickly connect and verbally indicate that the connection was made. Up to two devices can connect to the Wand at the same time and pushing down on the top will toggle the primary input source.
As noted, aptX low latency is not supported when 2 devices are connected simultaneously.
Testing
I tested the Tunai wand with a couple of different headsets both together and separately. First I pared my B&O Play BeoPlay H7 headphones. These are some of my favorite wireless headphones due to the superior comfort and battery life. They are Bluetooth 4.2 with aptX enabled. Amazingly the paring was so smooth I thought it had failed at first with a nearly seamless transition of music from my speakers to the headset. You'd have to imagine my surprise when I took them off and heard nothing in the room! That's pretty impressive.
I ran through a handful of music and TV testing before settling in to watch the Flatliners reboot. Tunai really nails the syncing with no noticeable delays. Fortunately the sound made up for the rather lackluster remake! It's hard to give up my dedicated home theater for a set of headphones however, when the sound is on par with the best of my Bluetooth experiences and I'll take good stereo sound any day.
Range was impressive as well allowing me to roam around the house with little interference until I had 50+ feet and a couple walls between us. I was even able to wander the yard with no loss through the wall which is impressive for any Bluetooth device.
I also tried adding a second headset, the Avantree ULTRA-SLIM Bluetooth Neckband Around the Neck Headphones that I normally use for yard work. While not that expensive they do offer aptX technology and noticed no drop in performance despite the shorter wireless range.
Conclusion
The Tunai Wand is simple to setup and provides seamless Bluetooth connectivity for just about any device that plays audio. The simple elegance of the brushed Aluminum matches up nicely with any home theater device and disappears in your media center like a good audio device should.
Audio quality was excellent and there is no perceivable audio delay when using aptX enabled headsets and with the Wand you'll find a newfound freedom when it comes to enjoying your favorite entertainment. Simply give it an audio input and hook in your favorite Bluetooth headset allowing you to listen at any time during the day and in any environment.
For more information be sure to check out the Tunai website
The Tunai Button is currently available on Amazon