Mushkin Swap 32GB USB 3.1 Type-C Flash Drive Review
Author:

Dennis Garcia
Published:
Wednesday, February 21, 2018

Introduction
By now everyone has a flash drive. Early on they were a handy alternative to floppy disks, CD-Rs and even writable DVDs and now have become the de facto standard when it comes to portable storage. These days flash drives, thumb drives, USB drives or whatever you want to call them, are everywhere. You can get them as promo items, some have logos and others are wrapped in thick rubber which will eventually transform into a solid goo that sticks to everything.
In this review I'll be showing you the Mushkin Swap. This is a 32GB USB 3.1 Flash Drive that comes with both a USB Type-A and USB Type-C connector(s) on the same drive. As of this review the Swap is available in two capacities 32 and 64GB and features read speeds up to 180MB/s and writes up to 20MB/s. Of course speeds will depend on PC speed and USB connection type and this drive supports the latest USB 3.1 Gen 1 specification with backwards compatibility with USB 3.0, 2.0 and 1.1 specifications.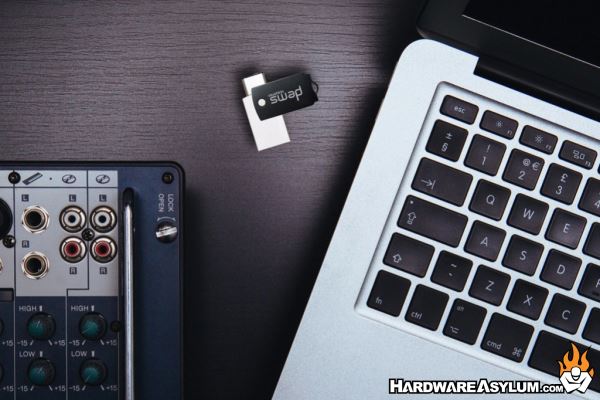 The Mushkin Swap features an aluminum shell protected by a black metal cover that will swing around to cover the end of the drive that isn't being used. Of course if you happen to look at the drive upside down it says Plems due to a creative use of the letter "P" at the end.
Most USB drives feature a single USB connection. Typically they are the standard USB Type A which works with every desktop and motherboard built since the Pentium II. The other type of USB drive might feature a micro USB connection and is sold to be a mobile storage solution for backing up your mobile data.
Of course very few feature two connections on a single drive allowing you to transfer data from a PC and read it on your mobile, mobile to PC or use it on a PC that might have both connections.
Shown here is the ASUS ROG Rampage VI Apex with an onboard USB 3.1 Type C and Type A connection.
In terms of testing there isn't much to say. The drive is super fast and works on mobile devices with a USB Type C connector and will transfer data from any machine with a USB port. If your PC has a USB 3.1 controller the data transfer is even faster making it a perfect match for large file transfers typical of video and digital photography.
The solid aluminum housing is extremely strong, lightweight and smaller than you would expect so keep a careful eye on the drive and maybe attach a little tag to keep it from walking off.