EVGA GTX 770 Super Clocked w/ ACX Video Card Review
Author:

Darren McCain
Published:
Wednesday, June 19, 2013

Conclusion
There is little doubt the GTX 770 can be considered a refresh of the GTX 680 in all but the marketing. With the GTX 770, Nvidia has provided a boost in the base clock speed, upped the memory speed and added Boost 2.0 technology. The memory bus width is still 256-bit however, the memory clock is considerably higher giving you a 7Ghz data rate for a total memory bandwidth of 225 GB/s. EVGA raises the bar even further with the SC edition by bumping the base clock and memory speed for even more performance. Nice.

Now, throw in the ACX system and you can count on 20% better cooling efficiency, a reduced sound signature and a marked increase in the expected life span of the card. Since ACX is a replacement to the reference cooler you can enjoy all of these benefits with almost no change to the power draw even at load. There is a price premium for the ACX cooling solution but at around $20 more this is an upgrade you can afford to pay for.

During testing the SC edition card posted a nice increase over the reference design and, like before, was really giving the MSI R7970 Lightning a run for its money. Of course this card is no GTX 780 or even a GTX Titan but if you're still using a GTX 580 or, lower end 600 series card the GTX 770 might be a good upgrade especially with SLI as an option down the road.
With every EVGA GTX 770 SC you get a very well written installation guide along with some "Enthusaist Built" EVGA stickers and a game of thrones poster. For those looking to get more from their EVGA purchase be sure to stop by the
EVGA website
for access to the latest
EVGA software
including
EVGA Precision X
and other overclocking related tools.
Also, for a limited time EVGA is also throwing in a custom back plate when you complete the registration. A great way to upgrade the card and get in on that EVGA three year warranty too!
Good Things
Best in class heatsink performance
GPU Boost 2.0
Quiet operation
Custom EVGA ACX Cooling
Higher clock speeds out of the box
Room for additional overclocking
Bad Things
Vents into the system
Only a spec bump over GTX 680 (But at a lower price)
Gone are the reference lighting effects
Ninjalane Rating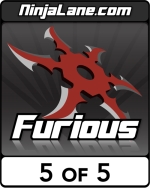 EVGA GTX 770 Super Clocked w/ ACX Video Card Review
Furious 5 of 5
https://www.hardwareasylum.com