EVGA GTX 770 Super Clocked w/ ACX Video Card Review
Author:

Darren McCain
Published:
Wednesday, June 19, 2013

Introduction
Just weeks ago we had our first experience with the Nvidia GTX 770. Despite using the older Kepler GK104 architecture we found the reference GTX 770 a worthy option compared to our lab favorite 7970 Lightning. We knew it was just a matter of time before we would see the enthusiast variants hit the market.

Today we are looking at EVGA's take on the GTX 770, the EVGA GeForce GTX 770 SC w/ ACX Cooler. The SC stands for Super Clocked and brings a nice boost to both the base clock and boost clock speeds right out of the box. Coupled with EVGA's upgraded ACX Cooling system, the GTX 770 SC should push the envelope even further closing the gap with the top end GTX 780.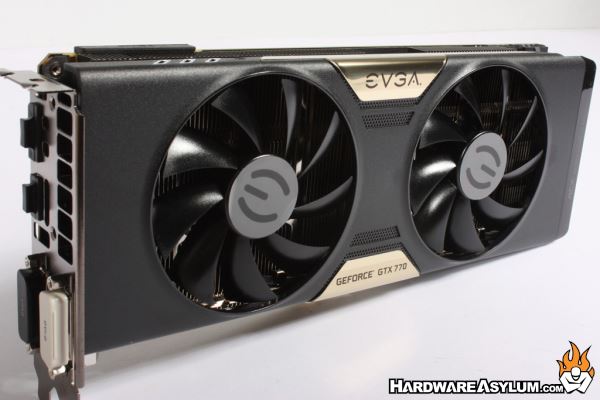 Specifications
Processing Units
Graphics Processing Clusters 4
Streaming Multiprocessors 8
CUDA Cores 1536
Texture Units 128
ROP Units 32

Clock Speeds
Base Clock 1111Mhz (stock 1046 MHz)
Boost Clock 1163 (stock 1085MHz )
Memory Clock (Data rate) 7010 MHz
L2 Cache Size 512KB

Memory
Total Video Memory 2048MB GDDR5
Memory Interface 256-bit
Total Memory Bandwidth 224.3 GB/s
Texture Filtering Rate (Bilinear) 133.9 GigaTexels/sec

Physical
Fabrication Process 28 nm
Transistor Count 3.54 Billion
Connectors 2 x Dual-Link DVI 1 x HDMI 1 x DisplayPort
Form Factor Dual Slot
Power Connectors One 8-pin and one 6-pin
Recommended Power Supply 600 Watts
Thermal Design Power (TDP) 230 Watts
Thermal Threshold 95° C

As we noted before the GTX 770 is based on GK104 and is in many ways a refresh of the GTX 680 with the addition of faster memory and more total memory bandwidth. Clock and Boost clock speeds are also slightly higher which is why GTX 770 requires a larger power supply and, in turn, generates more heat.