Bench testing a 486 from the Hardware Asylum Vault
Bench testing a 486 from the Hardware Asylum Vault
Author:

Dennis Garcia
Published:
Wednesday, July 7, 2021

Introduction
In my new YouTube series, I will be rummaging through my hardware collection and look at those products which have stuck with me over the years. These products hold some special meaning to me or, might have just been forgotten pieces of tech. For whatever reason they have remained in the vault and it is time for them to come out and play.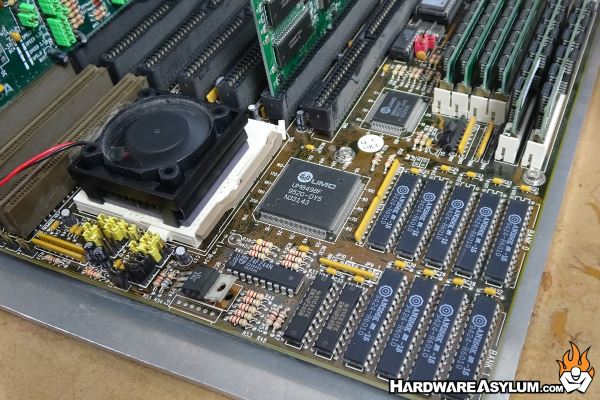 The first item, the Pilot, if you will, was a Pentium Pro based system I acquired from a co-worker who didn't need it anymore. At the time I used it for a short period, replaced the heatsink and played around with some overclocking features and then placed on the shelf for about 17 years. Well, this 486 motherboard has a similar story. The board was part of a super cool Mini Tower computer that I acquired several months after selling off my existing 486 computer parts. I had already migrated to a Socket 5 based machine and really had no use for another 486 build but, I felt it would be a good platform for learning Linux and testing out some computer networking.
Sadly, the system never got any real use and when it came time to clean up the lab, the case was discarded (a big mistake in retrospect) and the hardware went into storage.
As it would turn out the motherboard is not all that special. Sure, it came fitted with an AMD DX4 120Mhz processor supporting VLB and 72pin SIMM memory but, it exposes the worst kept secret in budget motherboard sales.
Fake Parts
Sadly, the L2 cache on this motherboard is completely fake, sure it has chips that look real enough and most will argue that 486 machines will not benefit from L2 cache but, the chips are just a façade to help the board sell better in the market. This cost savings a huge during the era and the lack of hardware review sources ensured that nobody would call them on it