The CES Time Shift An objective look from the hardware media
Author:

Dennis Garcia
Published:
Wednesday, January 15, 2014

Introduction
Some of you may have noticed that news, reviews and even the Podcast have been somewhat delayed since the beginning of the year and while it might seem like I'm being lazy there is a good reason for this.
CES 2014
As we all know CES occurs at the beginning of January and while I held an official CES badge I only got a few hours on the actual show floor this year. The bulk of my time was spent visiting my manufacturing partners, checking out their products and explaining why I changed the name of the website. (Funny thing about the name change, Hardware Asylum tends to explain what this site does but Ninjalane tends to be regarded as the "cooler" of the two names. If only google felt the same way.)
For the most part CES is a media show and of the people who attend a good majority of them are members of the press. Their job is to find the coolest gadgets and basically exploit the CES 2014 buzz to put their spin on what they see. PC Hardware makers used to have booths on the show floor but found it less expensive and more relevant to set up their displays in area hotels. That way they can still take advantage of the media buzz but often limit themselves to only seeing buyers and press that they currently work with.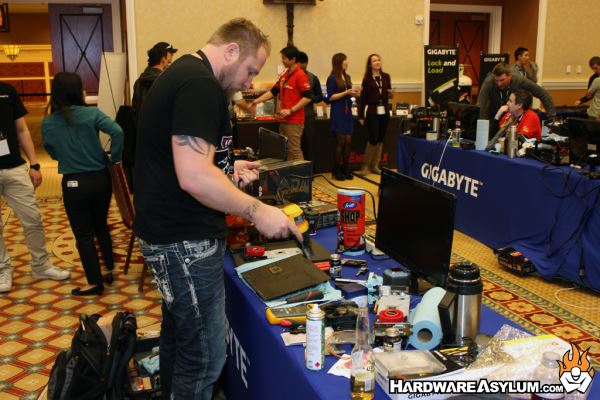 What I have come to discover is that the further you get from the convention center the less relevant the meeting becomes. For instance a company who sets their booth up in the Palms may only do so to meet members of the press since buyers and industry affiliates cannot be bothered to waste 2 hours of their CES day to travel that far. Alternatively, setting up in the Venetian (next to the Sands Expo building) may get you more foot traffic since a greater majority of companies are located in the same hotel but may also spoil any sort of meeting structure you have setup. Of course the best plan of action for "everyone" is to have an official booth and hope that the right mix of people will attend to check out what you have to offer.
Another thing I have discovered that since CES isn't a trade show for PC Hardware Enthusiasts it becomes more of a way for media partners to meet the marketing counterparts and less about coverage of those products. Combine that with after parties and more socializing and you get almost no time to write about the previous day. One option that tends to work well for larger sites is sending notes back to their "at home" editors and make them do the daily write-ups.
Of course, on the opposite spectrum you have sites that don't attend CES but do a really good job at posting CES news by either gleaning the information from mainstream media or blatantly stealing it from other hardware sites. I'm not saying this is a bad thing but, somewhat misses the point as to why CES is important.
This year I met with 22 vendors, not including after events like Unveiled and Digital Experience. In terms of numbers that is about average for a trade show and gave me about 30minutes to travel time between meetings, or less if the meeting runs long. Of those vendors three of them were with companies I have never worked with before and less than half were with companies that sample me on a regular basis.
Overall these stats are quite poor since I would rather meet with more new vendors and close more deals but, the economy and interpersonal battles tend to win out and negatively affect the bottom line.
How could it be better?
CES could be better on so many levels. The problem is that the Consumer Electronics Show is about the latest gadgets and technology and not PC hardware. While from an enthusiast standpoint we find interest in the latest processor the CES show is only interested in what companies do with that processor that makes our lives better. Because of this we will likely never motherboards and video cards on the show floor again even though other products like the latest Asus Transformer and Gigabyte Brix and are exactly what CES is looking for.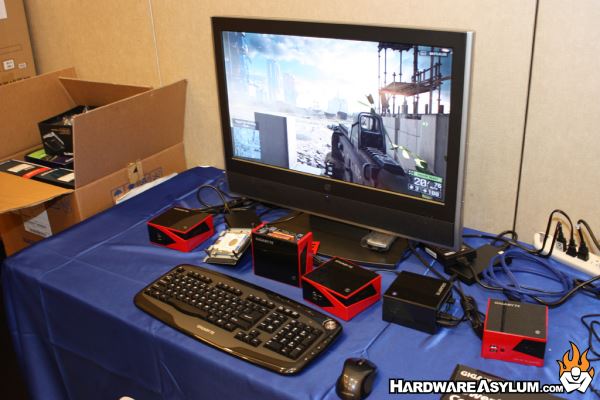 Those things being said the event could be better organized behind the scenes. For instance companies could make a valid effort to try to be in the same place. This would allow hardware media representatives a one stop shop to get the information they need and the option to meet a few new faces. All they need is a location.
Caesars Palace and Mirage both have large convention spaces and easy access to the hotel suites. Of course now that AVN is moved to the week "after" CES you have the Sands Expo building which is walking distance from the Venetian. It really doesn't matter where they setup, just as long as they are nearby.
Of course for something to change in the CES Sideshow you have to convince the various companies that they need to work together and drop their normal marking positions. This may prove more difficult since TW based hardware manufacturers are still very competitive for market share and often don't see the importance of the US market. Makes you wonder why there has been a gradual downturn in the PC DIY market over the past few years.
Conclusion
I guess what I am trying to say in a thousand words or less is that the first Podcast of 2014 will be delayed for a couple weeks while I recover and catch up from CES. This will also give my co-host time to recover from his Vegas vacation which is unrelated to AVN. Reviews will resume sometime next week along with News and other assorted sundries.
I should also mention that initial response to the Raven 2 giveaway is dismal. Because of this I will either be extending the contest for another month or canceling it all together. My decision may depend on if I can get another vendor involved or if the level of signups increases. Time will tell.
In terms of addressing CES, the show is one of the largest in the US and is dedicated to what makes electronics so great. I can only hope that someday we may get a hardware show dedicated to PC building where manufactures come together and show off what they can do. Until then hardware Zealots like myself will have to battle traffic, trolls and stripper cards to bring you the latest in PC hardware and hopefully come back alive.