Consumer Electronics Show 2013 - EVGA
Author:

Dennis Garcia
Published:
Friday, January 18, 2013
EVGA Suite Visit
The last official meeting of my Consumer Electronics Show adventure was with EVGA. As always EVGA had some amazing things to see and two of them stand out beyond everything else. The EVGA Mini Box and X79 Dark.

There will be two versions of the EVGA Mini Box, one supporting watercooling and the other without. The internals of each chassis are basically the same but with a few modifications to enhance airflow in the air chassis and reservoir placement in the watercooling version.

Each box will be sold as a barebones allowing you to build it exactly how you want.

The second cool item is a refresh motherboard called the X79 Dark. You may remember there were three EVGA versions of the X79 for the launch. The Classified (XL-ATX), FTW (Extended ATX) and SLI (Standard ATX). Every one of these boards featured 4 memory slots and was primarily designed for multi GPU configurations and didn't do too well in the market as a result.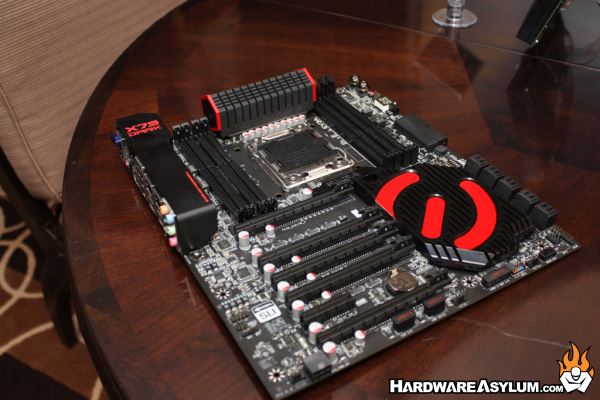 This new X79, called the Dark, is a refresh motherboard based on a completely new design. To accomplish this EVGA threw out the old designs and started everything from scratch. The end result is a X79 with eight memory slots, more SATA connections, better bench top controls, larger PWM and revised PCI Express layout supporting 4-way SLI in an extended ATX form factor

I can't wait to try this one out.

Be sure to check out the gallery of images below for an enlarged version and some details about what you are looking at.
Available Images