Consumer Electronics Show 2014 CyberpowerPC Visit
Author:

Dennis Garcia
Published:
Sunday, January 19, 2014

Introduction
There are two ways to get a custom PC. You can build it yourself using a combo of new parts with some you already have or you can look to a boutique builder like CyberpowerPC to build it for you. They both have their advantages and if you go with CyberpowerPC you can call them with any issues you might have.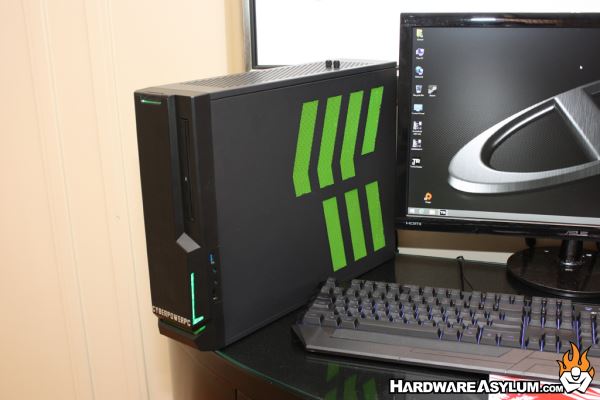 At CES the CyberpowerPC team had a variety of systems in display including the new Zeus Mini. This is a small form factor build that is built using off the shelf components and has support for full length graphics cards like the GTX 780 Ti and Titan. The system was shown in two color variations, green for Team nVidia and Red for Team AMD.
One of the highlights was their new SteamMachine which is also a small form factor system housed in a custom half height chassis with Fang style embossing on the plastic panels. The box on display featured a MiniITX motherboard and full length video card. Some of the internals are still in development but is build using off the shelf components for maximum compatibility.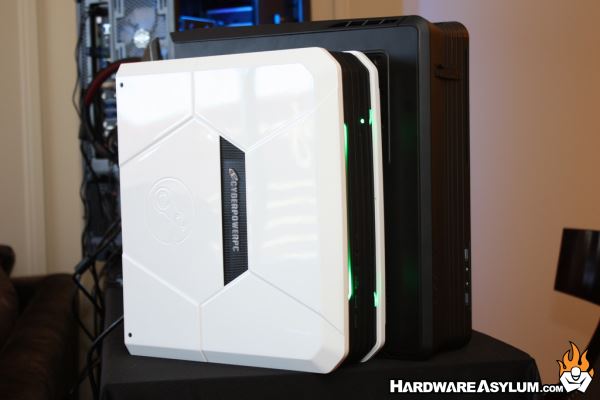 The photo here shows the SteamMachine sitting next to the Silverstone Raven RZ01 showing just how small this PC really is. It should be noted that this machine will be available with SteamOS but can also be purchased with a standard Windows install.
This next system isn't really "my" kind of build but is catered to the LAN enthusiast or anyone who travels with their PC. The Fang BattleBox is a portable computer housed in what looks like a plastic toolbox. Inside you'll find that the components are attached to a subframe which is then placed inside the chassis. Some of the internal ribs have been cut to improve cooling and it is lockable for added security.
These last two items are pretty cool. The first is one of their Fang gaming notebooks, this particular system is about perfect for an everyday system and is shown running Tomb Raider with moderate to low detail settings. Next to that is the new V3 Voltair air cooler that is backed by a TEC cooler for increased performance. It will be interesting to see just how good this cooler is given the jaded history between TEC cooling and the high-performance PC.