Consumer Electronics Show 2014 Digital Storm Visit
Author:

Dennis Garcia
Published:
Sunday, January 19, 2014

Introduction
There are a few boutique system builders in the US and even fewer that specialize in building extremely elaborate computers using custom designed cases and the best hardware money can buy. Digital Storm fits that demographic and was one of the companies I met with before CES officially opened.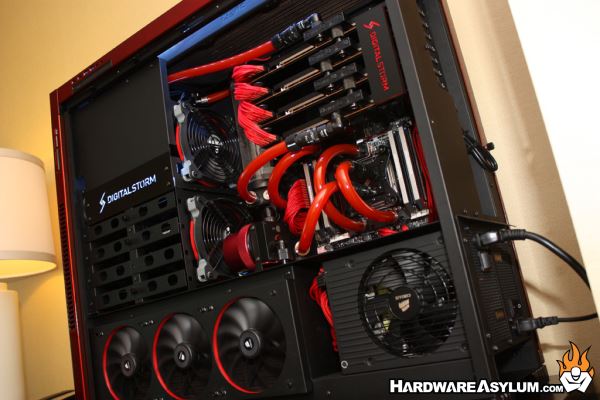 There were two systems on display. The first was this monster of a machine that was eloquently referred to as a typical uber system that their clientele would configure for a variety of purposes ranging from high-end gaming to your standard 3D workstation. The case is a custom Digital Storm design that can hold dual power supplies and three triple fan radiators and more fans than I care to count.
The second system is their SteamBox prototype that can support full length video cards and a dual fan AIO watercooler. The case is completely modular and designed to not only cool well but also run extremely quiet.
Digital Storm includes a specially designed control board that can accurately monitor system temperatures and adjust the cooling levels to match system load. The control system runs independent of the built-in controls making it efficient and highly configurable.