Consumer Electronics Show 2015 EVGA Visit
Author:

Dennis Garcia
Published:
Wednesday, January 14, 2015

Introduction
CES is a good time for EVGA. For instance last year they announced the GTX 780 Ti Classified Kingpin edition video card and the year before was dominated by the X79 Dark. Both of these products focus on the upper high-end of the hardware spectrum and are designed for overclocking. This year is no different and the highlight of their suite was the new GTX 980 Classified Kingpin Edition video card.
The card was a working demo in that it was powered on with the onboard LEDs set to "disco mode" Basically the lights would randomly change colors encompassing all of the major color spectrums.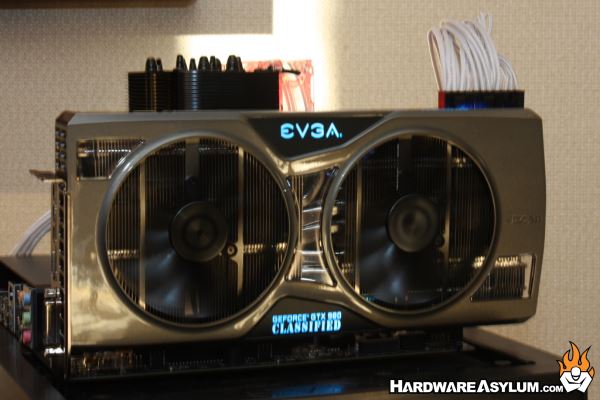 In terms of architecture the new 980 KPE features the ACX 2.0 cooling solution with a full metal fan shroud. Under the heatsink is a redesigned VRM that addresses the issue of excess heat under overclocking followed by a thicker chrome or nickel plated heatspreader over the VRM and memory. The card also features a memory warmer to keep the memory chips toasty when the card temp drops below a certain temperature.
All of these things should make the card more stable and easier to overclock under LN2.
A new feature of the 980 KPE is a redesigned I/O panel that will reduce the card down to a single slot with the help of three mini display port connections. EVGA claims they will include a couple adaptors for those of us (most everyone) who don't use mini displayport.
Another item that was on display is the new GTX 980 Hydro AIO. This is basically a self contained water cooler for the GTX 980 for those looking to fully convert over to watercooling without committing to the DIY route.
These blocks feature an Asetek pump block combo with a standard 120mm radiator and braided lines.
Along with some new versions of the Torx mouse EVGA was showing their prototype keyboard design the Z10. The keyboard features red backlights and a programmable keyboard display. The display will interface with PrecisionX and may to eventually allow for programmers to output game stats and other system vitals.
The final items on display are the famous EVGA power supplies including a 1600w Supernova T2 80 Plus Titanium PSU.