Consumer Electronics Show 2016 Cooler Master
Author:

Dennis Garcia
Published:
Thursday, January 14, 2016

Introduction
Cooler Master has been a driving force in case design for years and they are back with an interesting concept they call the makers. Makers are a way to show that PC modding has real world applications and spans beyond just making your computer look good. Their CES display was designed to showcase how they intend to do that in 2016 from accessory displays at your local computer shop to their maker case designs that are not only customizable but expandable as well.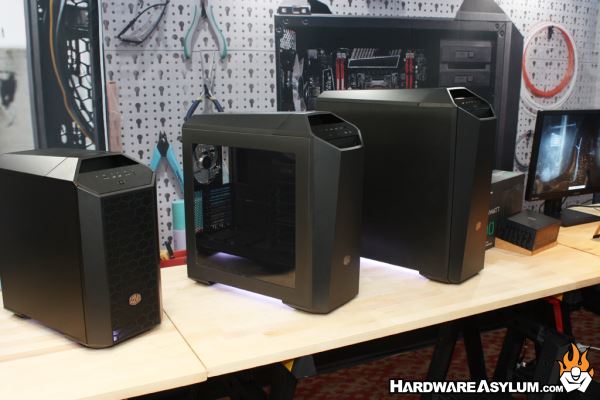 Some of the interesting things on display are the three fan designs. These fans represent the major segments people look for in a fan, Flow, Pressure and Sound. Each is designed to satisfy that need and will be available in 140mm. Against popular belief there isn't a magical fan that does everything so it is best to design the blades for a certain purpose and configure the rest to maximize performance.
The Maker case is an interesting concept that takes a standard chassis and allows you to remove and replace individual parts to fit the purpose you are after . For instance if you want a tempered glass door, you can buy one. If you want to install watercooling you can buy the radiator bracket. Most parts will be universal however case sides will depend on tower size, Mini, Mid and Full.