Consumer Electronics Show 2016 CyberPowerPC
Author:

Dennis Garcia
Published:
Thursday, January 14, 2016

Introduction
I have met with CyberPowerPC in the past and have been really impressed with their system designs, this year is no exception.
Syber gaming is a growing segment in the CyberPowerPC lineup and they were showing the next generation of gaming console. The chassis has been redesigned to improve cooling and now features more airspace under the console and better venting all around.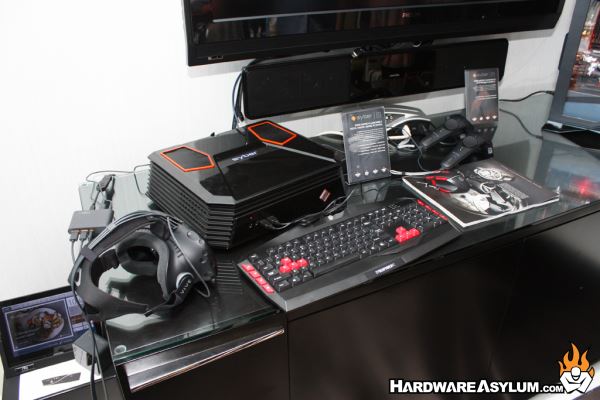 Another interesting concept is the Stream Machine. For professional streamers there is nothing worse than having your game crash and bring down your broadcast. The occurrence is rare but when it happens you often lose many of your viewers.
This new system designed for gaming professionals contains a full sized gaming machine with an additional MiniITX system housed at the top. The smaller system will control your game broadcast while the lower machine runs independently. No longer will you need to balance broadcast encoding with gameplay, you simply link the two and away you go.
The upper machine will come with an Avermedia capture card and offloads video encoding to the processor. Most people think you need a hardware encoder while in reality the Intel Core i5 and i7 are quite efficient at it.
I'm looking forward to testing this system out.
Hardline watercooling has become a very popular option with casemodders and CyberPowerPC has been experimenting with offering this mod on some of their high-end computer builds. Just about every system on display was watercooled from a Zeus Mini to the stream box running a tandom cooler connecting both systems together.
Of course sky is the limit when it comes to water cooling and the mod in this Deepcool Tristellar is a prime example.