Consumer Electronics Show 2016 EVGA
Author:

Dennis Garcia
Published:
Thursday, January 14, 2016

Introduction
EVGA hit it out of the park this year announcing an entire suite of products, which is kinda funny since they were in a sweet suite for CES.
EVGA Classified K
First on the list is the Z170 Classified K, or Special K as I'm going to call it. This is a Z170 series motherboard with all cool classified bits but has been put on a diet. To make the board more affordable they removed the expensive PLX chip and added a Killer Networks E2400 controller for better game performance.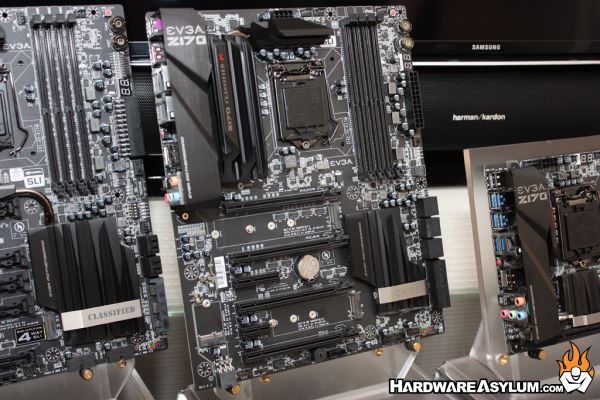 Sadly you won't be able to run 4-Way SLI on this board but you go get proper 2-Way performance without the PLX latency and super fast network performance either on an Intel or Killer controller.
EVGA Gaming Case
This is an interesting case that has been designed to provide optimal cooling for your GPUs with room for AIO style watercooling and an integrated fan controller. There are no external 5.25" drive bays and the SSDs mount to the back of the case with some 3.5" drive positions in the lower half.
EVGA designed this case to break the mold of a traditional chassis by configuring the side panel to be the front of the case. This can be seen in the muted front panel treatments and a very bulbous rear panes that both hides the cables and creates a ducted vent to pull heat from the video cards.
The silver area below the window holds the dual channel fan controller with a very large digital display.
EVGA SC17 Gaming Laptop
Maybe the most exciting product on display is the EVGA SC17 Laptop. Yes, EVGA is building a laptop and unlike other companies that sticker a white box theirs has been designed completely in house.
The SC17 features a metal shell, 17" 4k panel and fully unlocked UEFI Bios allowing you to overclock both the CPU and Memory.
An interesting side note is that EVGA not only designed the entire laptop but also created the font of the keyboard.