Consumer Electronics Show 2016 Silverstone
Author:

Dennis Garcia
Published:
Thursday, January 14, 2016

Introduction
Silverstone is one of the only companies that I have always visited at a trade show either it be CES or Computex Silverstone has been there. In fact I found out that along with the normal press meetings they schedule there is a good mix of random folks that swing by just to say hi.
Considering where their booth was, that was pretty impressive.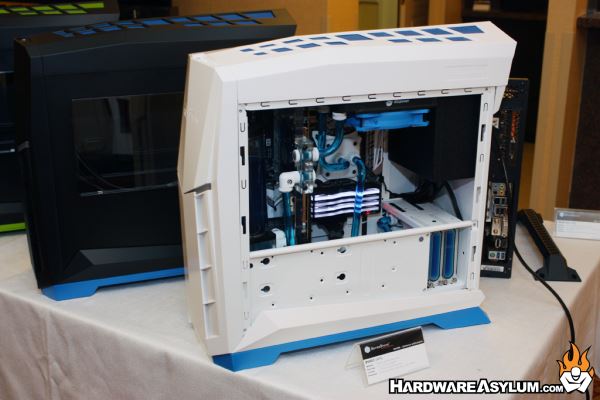 There were a number of good products on display this year including a new Raven design the RVX01. The new case appears rather compact but will fit a full sized system and supports DIY watercooling. In terms of color combos the chassis will be black with Red, Blue or Green accents. The white color pictured here might be an option in the future however the accent colors haven't been worked out yet.
The Intel 5x5 or (Mini-STX) was announced at IDF and is a new compact motherboard form factor designed to use socketed desktop processors with a mix of mobile parts to build an ultra compact motherboard that measures 5 inches by 5 inches.
Silverstone worked with Intel to develop this 5x5 chassis design that isn't much larger than a standard NUC.
As always there were a few budget items on display including the RL05 and this Argon heatsink tower. The RL05 has a lot of modding potential and a good amount of room to support a good variety of hardware combinations. (Eg it looks good)
At Computex Silverstone announced that they had created the smallest 750w PSU and did so by created an 80Plus Platinum design and placed it in a case normally reserved for a 500w unit. This year at CES they have done the same with an 850w unit.
The Strider 850w is 80Plus Platinum rated , fully modular and extremely small. Another PSU advancement is the first ever SFX PSU that comes with two 8-pin PCI Express power connectors allowing you to run true 2-Way SLI on an SFX Power Supply or larger cards like the R9 Fury and GTX 980Ti in a number of their cases without overstressing the powersupply.