Consumer Electronics Show 2016 Thermaltake
Author:

Dennis Garcia
Published:
Thursday, January 14, 2016

Introduction
Thermaltake has been very bold in their marketing and appear to have focused squarely on the resurgence of casemodding. This isn't a new development as it was something I saw last year at CES and again during Computex. While the super large cases are somewhat impractical to only a few hardware enthusiasts you cannot deny they do look good.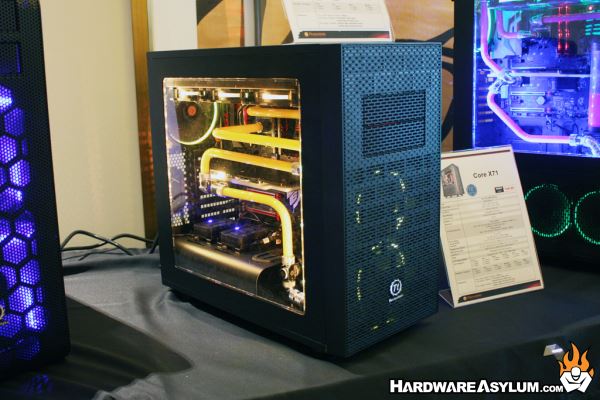 The case that most impressed me is the new Core X31. On the surface this appears to be a wider version of the popular Core V51 and shares the same metal mesh exterior and large side window. Their display unit was filled with watercooling gear and even comes with a factory PSU cover.
Another new product on display is the Ventus Zi mouse with up to 10000dpi resolution, onboard memory and ARM processor it seems like the mouse everyone should have.
Thermaltake also had another version of their digital DPS power supply now with 1250watts of power and RGB lighting effects. The unit is fully modular and comes with upgraded monitoring software that is cloud enabled. Scary or not but you can see in real time how much it cost you to play Fallout 4 over the past month.
Or bitcoin if you are into that sort of thing.
Hardline watercooling is a popular mod for the PC enthusiast and Thermaltake was showing off their line of Pacific watercooling parts and their own pastel coolant. The coolant is available in a rainbow of seven different colors and has been determined safe for every watercooling loop.
Aside from going pure DIY there is no better non-stop shop for all yoru watercooling needs.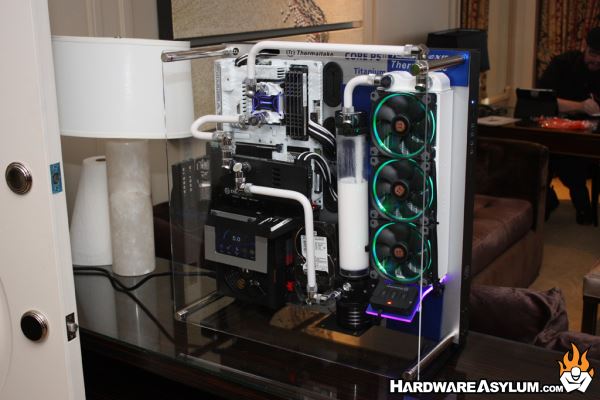 Thermaltake had several builds on display and even though this open frame wall mount case doesn't really interest me as a modder I will say the Core P5 is what the Level 10 (by BMW) "should" have been when it was released. It is an open frame design and supports everything you might need in a PC.