Gigabyte 30th Anniversary Megashow at CES 2017
Author:

Dennis Garcia
Published:
Monday, January 16, 2017

Introduction
Gigabyte had a very large display for CES 2017 to help celebrate two major events. The first was to commemorate their 30th anniversary which included a press conference, indoor golf simulator and after party. Planning for this event started early in 2016 with the launch of the Mod 2 Win casemodding competition where the winners would have their mods shown at the Gigabyte suite. Much to my surprise there were a variety of mods on display, mostly to showcase their second major announcement.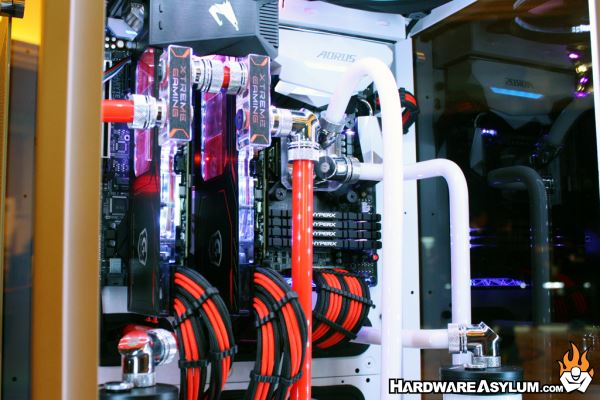 For CES 2017 Gigabyte has launched (or "expanded" in this case) of the Aorus Gaming brand. Aorus was a brand created during the e-Sports craze to showcase the Gigabyte line of gaming notebooks and gaming accessories. That brand has now been expanded to encompass all of the PC gaming hardware including motherboards and video cards.
In the past the OC line of motherboards was always considered to be the flagship product while gaming boards were considered mainstream. With the launch of Aorus the gaming hardware is getting center stage, all the money and some glory to go along with it.
Pictured below is the Aorus Gaming 9 with an EK branded VRM cooler and benchtop controls.
The board is using the 4-way configuration and even comes with two U.2 sockets.
Later this year Gigabyte will be launching their Aorus line of gaming video cards that feature a new and improved triple fan Windforce cooling solution featuring a new backplate and copper heatsink combo.
Just look at those monster heatpipes!
If the new black and white color scheme isn't your thing how about a silver PCB instead. The new Z270X Designare features a very mainsteam layout and striking silver PCB with matching heatsink covers.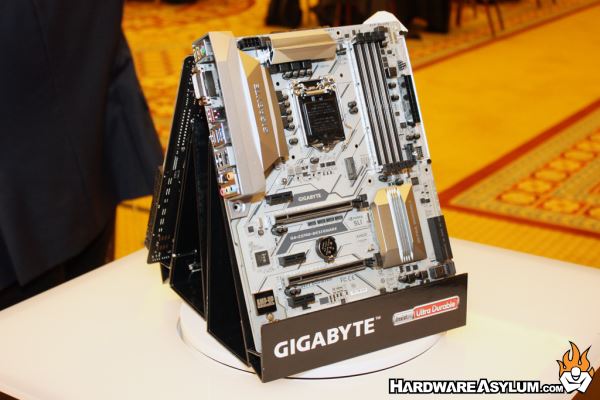 Overclocking might not be a flagship anymore but is still being produced. Here we have the two products in the OC lineup including a full sized ATX motherboard along with a Mini ITX board.
One thing I found interesting is that they removed the OC Touch panel and made it a separate board.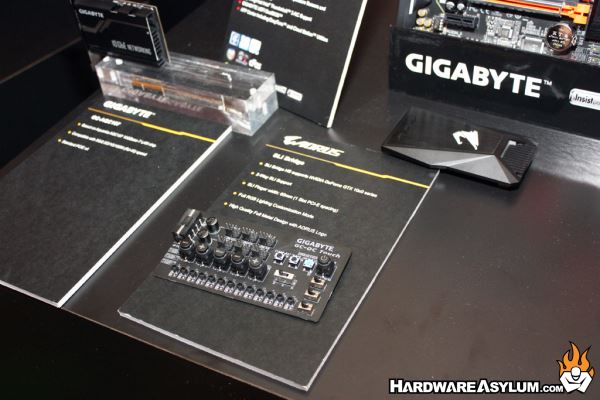 I was never really a fan of the OC Touch since it was just a USB addon card directly connected to the motherboard. You could manually control some aspects of the motherboard at the hardware level but really needed to install the driver/software to get the most from it.
At least now you can buy the OC Touch panel separately and used it on any OC board going forward.