SilverStone Upgrades Popular Case Designs at CES 2017
Author:

Dennis Garcia
Published:
Saturday, January 14, 2017

Introduction
When I met with SilverStone during CES 2017 I was a little curious to see what they were going to show. Typically SilverStone launches a new Raven design at CES so that was foremost on my mind along with what upgrades they might announce with their power supply line.
I was not disappointed and also a little surprised. First up we have the new chassis designs from SilverStone including a very unique chassis in the Sugo line called the SG14. This is a vertical cube style case with acrylic/plastic side panels. The panels feature a slight inward arc and are currently shaded to both provide reflectivity and shroud what goodies might be hiding within.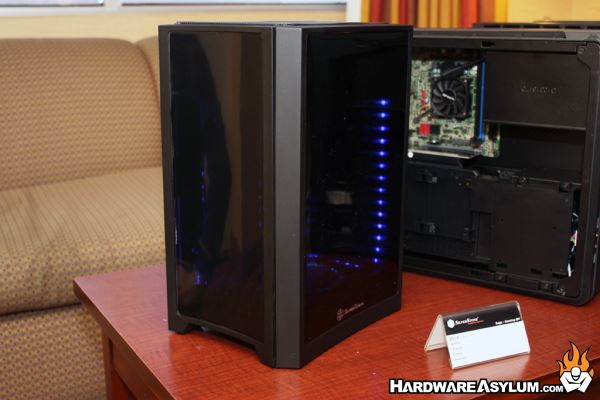 As you can image this is a Mini ITX based chassis with cables exiting out the bottom and exhaust cooling out the top.
The next chassis design is an upgrade to the popular PM01 which now is available with a tempered glass side panel replacing the existing window and RGB LEDs. Pictured here are the new RGB LED fan grills that can transform any standard fan into an RGB LED one using the SilverStone snowflake.
Other upgrades include and RGB controller and PWM fan hub to replace the 3-pin controller found in the original PM01.
SilverStone is also offering a screening service to put graphics on their side panels. This will likely be an OEM feature allowing them to order cases with custom graphics and logos on the side panels. A couple of stylistic unicorns were used as an example.
The new Raven chassis that was on display is part of their slim line called the RVZ03 and will be very similar to the RVZ02 and their other slim style cases where the video card is parallel to the motherboard and connected with a ribbon or riser card. Chassis cooling looks to mimic the RVZ01 with active cooling over the motherboard and video card.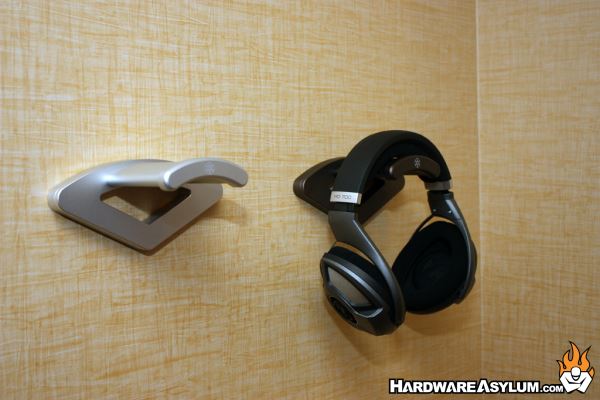 Some other cool items on display include the new full aluminum headphone holders that are not only sturdy and overbuilt but will attach directly to a wall or your desk. Colors are available in both silver and black and should mesh perfectly with the Ensamble series line of headphone amps and DAC.
A variety of USB cables with reversible plugs available in lengths between 500mm and 1800mm. These are quite good and feature braided cables with some supporting USB 3.1 Type C Gen II with thicker shielding.
In products that are strange, yet cool you can get a wireless remote for your PC which can be used either for convenience or security. It connects via USB and now comes with a hydra head for better support in SFF case designs.
The final item is some upgrades to the SilverStone PSU Strider line. First up is a 1500watt 80 Plus Platinum PSU with eight 8-pin PCI Express power connections. This can be used either for proper 4-way video card installation or for those who still do multi GPU Bitcoin mining.
Second is a minor feature but you can now get a power switch on SFF power supplies. Before this you would have to pull the power cable to turn the PSU off and now you can simply flip a switch. This can be helpful when shipping your system or when things crash bad and you need to reset everything back to zero.
Look for many of these new cases and power supplies to be released in the next few months and follow SilverStonetek.com for product announcements.