Alphacool Takes on PC Builds at CES 2018
Author:

Dennis Garcia
Published:
Sunday, January 21, 2018

Introduction
Alphacool was hiding out at CES and had a pretty big announcement that they were going to hit the Custom PC Building market, and on a light tap either. As many of you know Alphacool makes watercooling components and accessories. I did a review of the Alphacool Eisbaer 120 AIO Water Cooler and really liked it.
The Eisbaer (or Ice Bear) is a modular AIO cooler allowing you to expand the loops and even swap out radiators if you need better cooling. Part of why this system works is because Alphacool makes their own radiators and builds the Eisbaers with G1/4 fittings meaning they are compatible with off the shelf watercooling components.
On display they had a number of RGB LED enabled coolers and some pre-release multi port reservoirs but by far the most interesting item was the Alphacool Eiskoffer. This is a complete PETG bending kit with everything you need to bend PETG and Acrylic tubes.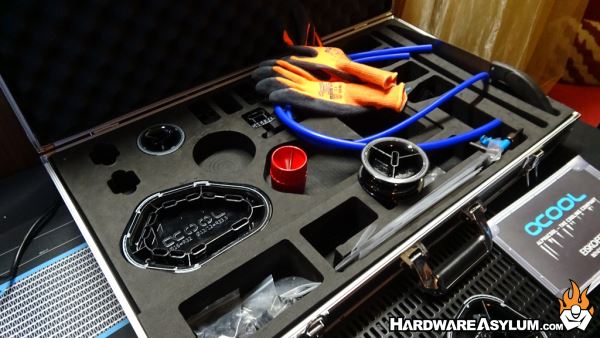 The kit includes things like gloves, silicon cords and mandrels for both 16mm and 12mm tubes.
All of that mounts to a metal plate allowing you to build your tubing run as a jig and then not worry about making sure the bends are in the right place because they are locked down waiting to hold your hot pipe.
Oh wait.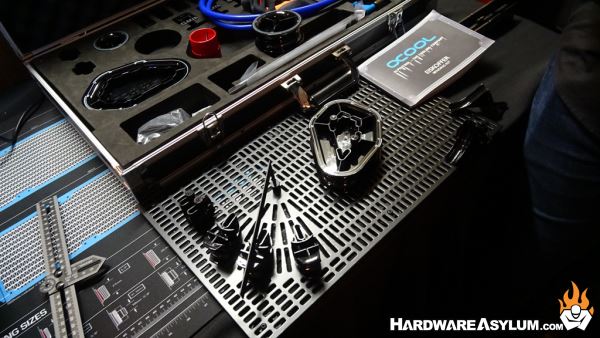 Of course, the best part of Eiskoffer is the storage case. Yes the case pictured here is what will hold your bending tools, keeping them safe an easily stored when not in use.
Eiskoffer is available now and for those of you looking to build your own PSU cable kits they will be offering a similar kit for cables that includes wire strippers, pin tools and a crimper to get you started.