Alphacool Eisbaer 120 CPU AIO Water Cooler Review
Author:

Dennis Garcia
Published:
Sunday, June 25, 2017

Introduction
Watercooling is what I would call a pinnacle cooling method. When done properly it can deliver superior cooling performance and greater cooling capacity. This is not only beneficial to overclocking but offers quieter operation and has often become a centerpiece in custom system builds and case mods around the world. There are two basic types of watercooling. DIY or "Do it Yourself" watercooling, these loops require assembly but are infinitely customizable. The AIO or "All in One watercooler" is a sealed package that comes complete and installs much like an aircooler. You cannot expand the AIO cooling loop but is inexpensive and ready to go.
The question is, what would happen if you could combine the customization options of DIY watercooling with the ease and simplicity of AIO watercooling. Well, wonder no more.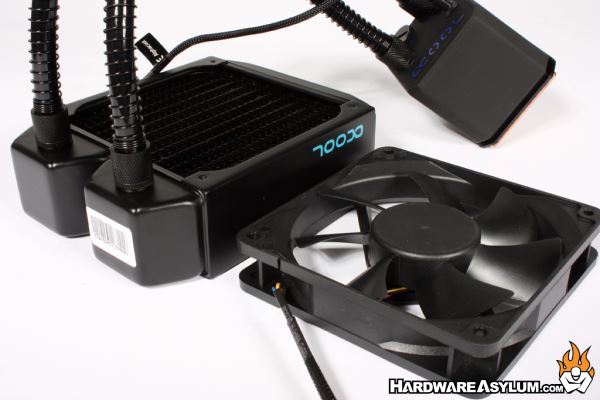 In this review I'll be looking at the Eisbaer 120 from Alphacool. This watercooler takes a different approach to AIO watercooling by allowing you to expand the loop to include additional waterblocks and radiators to fit your system build. For instance a popular configuration is to cool both the CPU and GPU in a single loop. With a standard AIO this would be impossible however with the Eisbaer you can add an Alphacool GPU waterblock to the loop and/or even include additional radiators to improve cooling.
Because of this I see the Alphacool Eisbaer AIO watercooler as a step above what you would normally consider to be an AIO. In fact many of the components used in this cooler resemble what you might find in a DIY kit including a pump block that comes with a small water reservoir and fill port. The Eisbaer 120 comes with a single 120mm radiator that is 45mm thick and made entirely from copper.
You may also notice the fittings feature a knurled texture and happen to be based on the G1/4 thread common to DIY cooling components.
The standard Eisbaer 120 comes with two Eiswind fans that are PWM controlled and spin between 550 and 1700 rpm. The blade profile is rather aggressive and moves just the right amount of air for the included 120mm x 45mm copper radiator.
One feature that makes the Eisbaer 120 unique in the AIO cooling space is how much it resembles a full DIY cooling loop while still retaining what makes and AIO easy to use. To accomplish this you'll find that while the hoses are directly connected they feature a disconnect fitting that allows you to tap into the loop without needing to drain the fluid.