Alphacool Eisbaer 120 CPU AIO Water Cooler Review
Author:

Dennis Garcia
Published:
Sunday, June 25, 2017

Alphacool Eisbaer Layout and Features
A hose disconnect is not a new feature, in fact they are used on air hoses all the time. The only difference here is that when you disconnect the hose the valve closes both ends so that the fluid in the Eisbaer doesn't come gushing out.
Flow in the fittings is indicated by a blue and red collar. Red indicates the hot side, or water flowing into something while the blue is the return back to the pump block. The fittings feature a screw lock to keep them from coming apart and a series of o-rings to keep everything sealed up.
Inside the fitting you'll find two valves that open once the fittings are pressed together. The fitting itself is completely watertight but you will always have a little residual fluid in the fitting that will need to be collected when expanding your loop. It isn't much more than 2-3 drops to keep a paper towel handy.
The pump block is very unique in that it is quite a bit taller than most AIO coolers. Inside you'll find the standard pump and copper block that connects to the CPU along with a small reservoir for capturing air and allowing the loop to be filled. (remember those drops?, do that a few hundred times and you'll need a top off)
You can see the pump through the side window in the pump block, sadly there is no internal light however the OCOOL logo across the top does light up. The default color is blue however you can change color using some special filters to match your build colors.
The base of the block is machined flat and polished to a high luster. Four copper screws hold the base to the pump block and are well away from where the CPU is located.
Alphacool is well known for having some of the best radiators that are made from 100% copper. The Eisbaer system uses those same radiators and is one of the defining factors for why you would pick this AIO over many of the others on the market.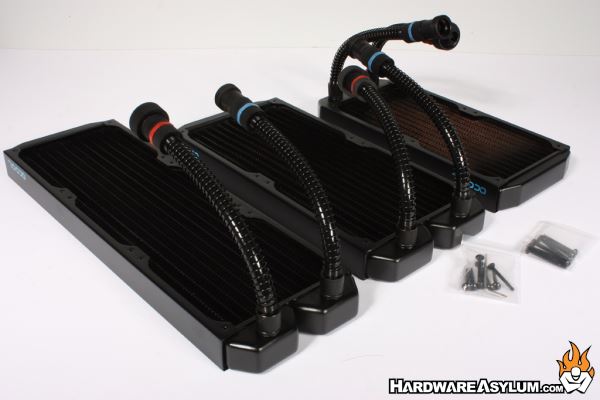 In this review I'll have the opportunity to test the Eisbaer 120 with a variety of different "add-on" radiators including the Alphacool 240, Alphacool 280 and Alphacool 360. As you can imagine there is such thing as "diminishing return" when it comes to surface area in a water loop mostly due to a reduction in flow.