Alphacool Eisbaer 120 CPU AIO Water Cooler Review
Author:

Dennis Garcia
Published:
Sunday, June 25, 2017

Cooler Installation
The Alphacool Eisbaer 120 is a universal watercooler meaning it will fit on any CPU platform using the included mounting hardware.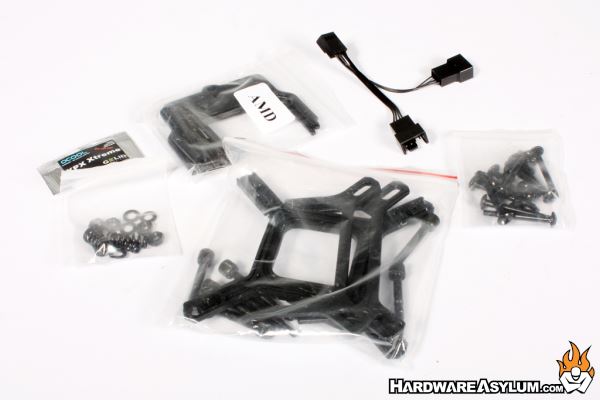 You may have noticed a groove around the bottom of the pump block. This is where the mounting hardware makes contact with the pump block so it can be installed. The rails are basically two parts broken in half with a friction lock located along the edge.
The friction lock is secure enough to hold the rails in place while the pump block is installed and becomes a solid unit when fastened to the motherboard. A quick "wiggle" will allow the two parts to separate for those of you who switch processor platforms on a regular basis.
Mounting the Eisbaer is pretty straight forward. I'll be testing on a LGA 2011v3 platform so the only parts I'll need are the mounting screws and springs. LGA 115x will require a backplate while AMD based systems use the factor backplate whenever possiable.
The screw, nut, spring and washers assemble so that the mounting screw and spring are held above the mounting plate while the nut keeps everything from falling apart leaving just enough threads to secure everything to the motherboard.
Of course apply your favorite thermal paste. As always I am using the Noctua NT-H1 for this review and prefer the 5-dot method. This has always given me consistent and repeatable results while ensuring that the entire CPU is covered.
When done install the fans, radiator and connect all of the power leads.