Alphacool Eisbaer 120 CPU AIO Water Cooler Review
Author:

Dennis Garcia
Published:
Sunday, June 25, 2017

Conclusion
If anyone tries to tell you that all AIO coolers are created equal be sure to give them a smack in the arm. In this review I looked at the Eisbaer 120 from Alphacool. This is a 120mm AIO watercooler that can be expanded to match you system build including the addition of more radiators and GPU waterblocks. Ideally you could link two Eisbaer AIO loops together and get twice the pump power however even I think that is a bit over the top.
The Alphacool Eisbaer 120 is the entry level cooler in the Eisbaer lineup which includes additional models using the same pump block and different radiators including 120mm, 240mm, 280mm and 360mm. All of the radiators are 30mm thick except for the 120 which is larger at 45mm. Installing the Eisbaer cooler was straight forward and consisted of a universal mounting system of interchangeable mounting plates. Simply match the plate to your system, assemble the spring screws and away you go.
When testing the Alphacool Eisbaer 120 I set out as I normally do with back to back thermal tests to look at default performance and how well the cooler can handle overclocking. Much to my surprise the Eisbaer 120 was only a degree different than the Thermaltake Water 3.0 with a 280mm radiator with overclocked temperatures at 69c. From there I started adding radiators to test two things.
How well can the Eisbaer pump handle additional radiators in the loop?
Does more radiator surface actually increase performance?
The results were as you may expect. More surface area allowed the system to dissipate more heat however with the increase in surface area I also noticed a diminishing return meaning that the pump was struggling. To be fair 720mm of radiator surface area is not something you normally do even in a DIY loop so needless to say I am still rather impressed.
The Eisbaer concept is very interesting and finally gives users a chance to actually build a watercooling loop instead of having to match together sealed AIO loops only to wish they went with a DIY kit. With the Alphacool Eisbaer you now have an option to build a user friendly cooling system that can grow with your build instead of locking you into it.
Good Things
Quiet Operation
Copper Radiators
Expandable Design using Disconnect Fittings
Great Overclocking Performance
Easy Installation
Speed Adjustable PWM Fans
G1/4 Fittings
Bad Things
Can't see the pump window when installed
Expected more lights, kinda
Hardware Asylum Rating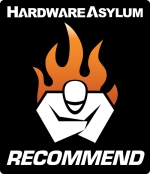 Alphacool Eisbaer 120 CPU AIO Water Cooler Review
Recommend
https://www.hardwareasylum.com