Bezel-less Gaming from ASUS at CES 2018
Author:

Dennis Garcia
Published:
Thursday, January 18, 2018

Introduction
One of the common complaints about multi monitor gaming is the solid lines splitting the screen where one monitor ends and another begins. This is called the bezel and they are a very necessary part of any monitor. Not only does the bezel keep all of the parts contained but also keeps light from leaking out the edges.
Sadly, because of this they are very difficult to remove. ASUS ROG is working on a solution to this using a little bit of visual trickery common to 3D panels where you simply stretch the image over the area you want to hide.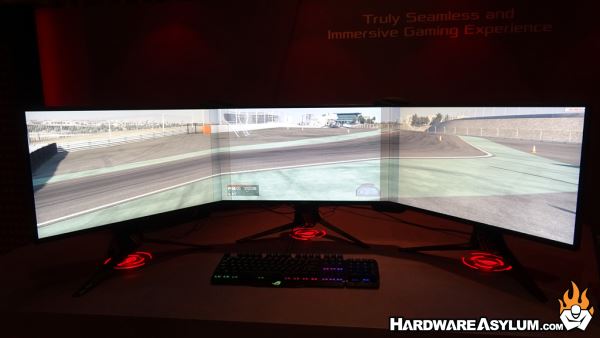 The new bezel-free kit will sit on top of your monitor and allow you to visually remove bezel and give you a seamless gaming experience.
Of course, the alternative to triple panel gaming monitors is the curved ultra wide called the ROG Swift PG35VQ. This is a 200Hz panel supporting HDR and happens to be a world first.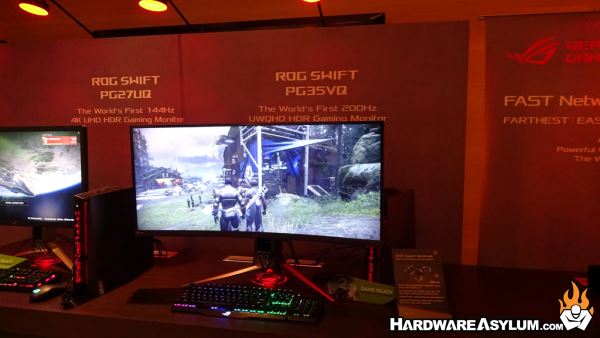 While the panel is amazing I want to draw your attention to the ROG logo being projected out the bottom of the monitor stand. Some may say monitor stands are boring and, well, this is the exception.
It wouldn't be ASUS ROG without a compliment of gaming peripherals. Here we have a ROG Strix Flare gaming keyboard supporting ASUS AURA RGB LED lighting effects and even comes with an illuminated acrylic insert emblazoned with the ROG bage..
The ROG gaming mouse and keyboard will sync with other ROG products giving you a seamless RGB LED experience.
While some of the products on display are currently available I have t applaud ASUS ROG for how they are extending the ROG brand. Not only do they offer some pretty awesome motherboards but they are now extending beyond that space to include things like RGB spotlights, ROG Strix Flare gaming keyboards, gaming mice, video cards (well duh), monitors, monitor stands, ROG Aura Terminal (ambient RGB lighting) and even experimenting with eye tracking hardware (Tobi) using the new Aura SDK program which allowing you to provide another dimension of control in your games and programs.