The Next Generation of RGB LED fans from Enermax shown at CES 2018
Author:

Dennis Garcia
Published:
Tuesday, January 23, 2018

Introduction
When it comes to LED fans there is one company who has been doing it longer than anyone else. In fact when most companies were "meh" about LED fans Enermax was still building them and experimenting which different designs.
This year at CES Enermax was showing of a variety of new RGB LED products including the new LiqFusion AIO watercooler. This is a self contained all in one unit that breaks the traditional watercooling model by placing the pump near the radiator instead of on top of the CPU block. This is done to improve cooling but more importantly not to infringe on the asetek patent that burned some other companies in the past.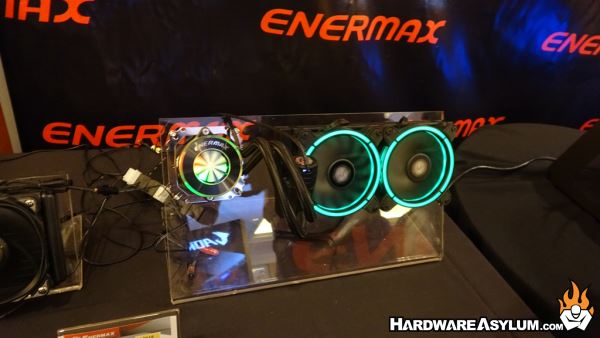 By moving the pump Enermax is allowed to add some things to the design like full RGB LEDs on the CPU block and a spinner to give you a visual indication that water is flowing.
One of the other items that caught my eye was a new generation of RGB LED fans called the T.B. RGB. These fans feature a familiar outer RGB ring of light that is now duplicated down the entire frame of the fan. The fan support all of the major motherboard RGB LED lighting technologies and comes with a standalone controller and remote for universal use.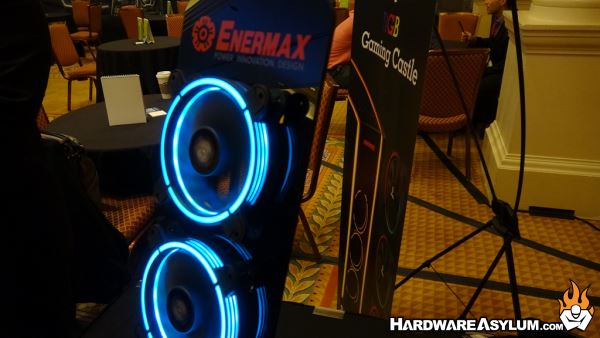 There is something else to note about the T.B. RGB fans. The light rings have been designed to hide how many LEDs are in the frames. Typically when an LED lights up you can tell exactly where it is. Well, with the T.B. RGB fans Enermax has gone to great lengths to ensure that the lighting is very smooth and even across the entire ring.