EVGA Shows of 2200W Platinum PSU at CES 2018
Author:

Dennis Garcia
Published:
Sunday, January 21, 2018

Introduction
Unlike some companies EVGA is rather humble in what they show. Like most companies the majority of their product line is already available however, there were a couple of new items like their gaming keyboard experiment and a new version of their gaming laptop, now with more GPU.
One of the highlights of their display was the 2200W Platinum PSU. For those of you keeping track of power supply development you'll know that the theoretical limit for any PSU. This is taking into account 110v wall voltage and the 20amp circuits common to homes in the US.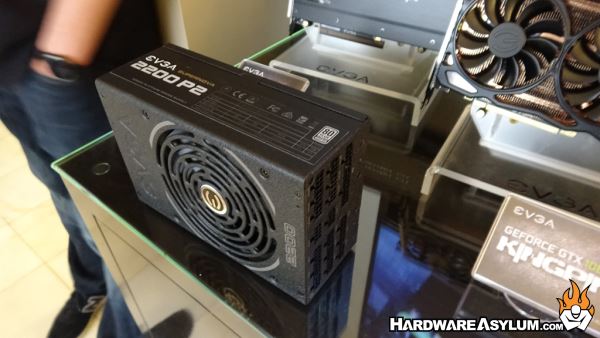 To go beyond 1500w you need something a little more powerful, like 220v like what you would use to power a dryer or kitchen stove. These are on a much larger circuit, 40 to 50amp and can deliver the wattage claimed by this unit.
Needless to say, the 2200w PSU is a special case here in the US but is quite relevant in European countries where 220v is common. Personally I might pick one of these up for the test bench [cause:reasons]

.
Of course it wouldn't be an EVGA display without video cards and here we have the two retail faces of the GTX 1080 Ti Kingpin. On the left is the watercooled edition while to the right is the standard aircooled version with decorative copper plated ACX 3.0 cooler.
Across the room is the holy grail of X299 motherboards, the X299 Dark. This is a special X299 in that it is designed for overclocking and features some special items to making overclocking better. The CPU VRM is extremely well designed and comes with two 40mm fans to ensure temperatures stay in check. Around the PCI Express slots you'll find a shroud covering the M.2 slots while the fan over the MCP doesn't cool the chipset but rather forces air over the M.2 drives. (NVMe is pretty hot afterall)
The edge of the PCB is also gold plated and the overall design is just amazing.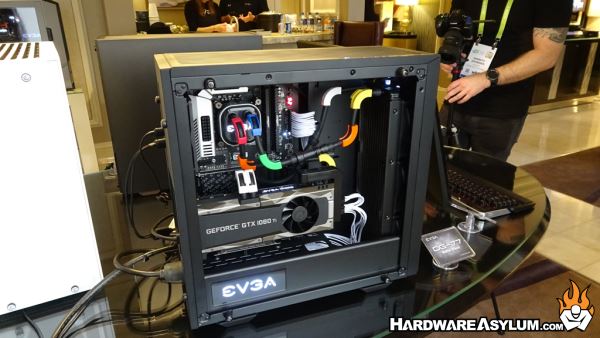 The final item on display, (that I have pictures for at least) are these plastic tubing clips for the EVGA CLC. They might seem a bit silly but with these you can put 90 degree bends in your CLC tubing and give your builds a cleaner look without going down the PETG path.